1,973-Hp Ford Pro Electric SuperVan is Super-Fast, Super-Cool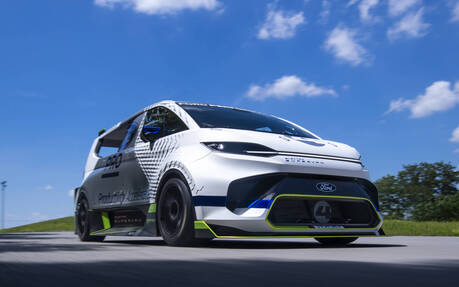 Has Ford gone mad? Today at the 2022 Goodwood Festival of Speed in the U.K., the automaker unveiled the Ford Pro Electric SuperVan, an ultra-high-performance EV van concept that was developed in secret by Ford Performance and the electrified rally and racing specialists at STARD in Austria.
For those who don't know, the Supervans were a series of promotional vehicles built for Ford's British division. There were three generations, all combining the design of the Ford Transit with the chassis and performance of a race car.
This is the first time that a Supervan is electrified, though. And how. Four electric motors drawing energy from a 50kWh liquid-cooled battery with a bespoke control system produce an estimated 2,000 PS, or 1,973 horsepower, for 0-100 km/h acceleration in less than two seconds. Talk about express delivery.
Said battery is mounted for optimum weight distribution and a low centre of gravity and can be fully recharged in approximately 45 minutes using a standard DC fast charger. 
"We're bringing SuperVan into the 21st century with 2,000 PS of all-electric power for unmatched excitement and unmistakeable styling inspired by the new E-Transit Custom," said Mark Rushbrook, global director, Ford Performance Motorsports. "But performance isn't all about horsepower: the Electric SuperVan's processing power means engineers can use real-time vehicle data to optimise its performance, just like on a top-level racing car."
The Electric SuperVan's striking exterior design is the work of the Ford Design team in Cologne, Germany, with an obvious focus on aerodynamics. The outlandish wheel arches, muscular style and one-off livery help deliver arguably the most extreme expression of Transit styling ever, but check out the massive air channels and sporty wing in the rear. That is some state-of-the-art architecture right there.
The interior includes a full roll cage and racing seats to FIA standards for safety, as well as a large SYNC touchscreen taken directly from Ford's production vehicles such as the Mustang Mach-E. The touchscreen also enables control of the selectable drive modes, and just like a modern race car the Electric SuperVan can send real-time data to software for remote vehicle management.  
Ford Performance engineers at trackside can monitor the vehicle via dedicated management software that translates live data into insights on speed, lap times and vehicle systems.
Championship-winning racing driver and electric motorsport specialist Romain Dumas will be in the Electric SuperVan's cockpit to demonstrate its capability on Goodwood's famous hillclimb over the weekend. Of course, there are no plans to launch this van on the market, but Ford says the unrestricted design concept allowed it to "push the boundaries of electric vehicle engineering and connectivity to improve its future race cars and road-going vehicles." Just imagine that.