Volkswagen ID. AERO Previews Canada-Bound Electric Sedan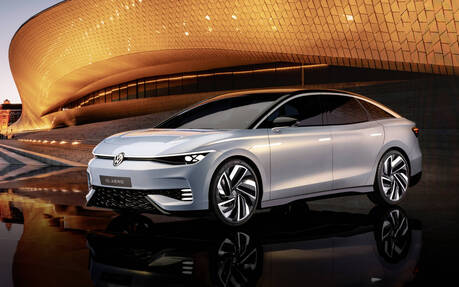 Following the ID.4 compact crossover and ID.Buzz van, Volkswagen will continue its EV offensive in North America with a midsize sedan inspired by the ID.Aero concept that was unveiled today.
Built on the same MEB platform, this car is described as a global product, meaning it will go on sale on our continent as well as Europe and China.
As the name suggests, the concept is all about smooth lines and aerodynamic surfaces. The super-low drag coefficient of 0.23 is clear evidence. This will have a positive effect on range, which is currently estimated at 620 km based on the WLTP test cycle used overseas. A more realistic figure for North America would be 500 km, better than the ID.4 (up to 422 km).
It appears as if designers flattened the latter to create a 4.8-metre-long sedan, which is roughly the size of the departing Passat. The two-tone wheels in a turbine design measure 22 inches, but you can bet the production model will have smaller alloys.
Another thing that likely won't carry over from the concept are illuminated touch surfaces replacing the conventional door handles. Oh, and the Polar Light Blue Metallic paintwork has colour pigments that create a golden shimmer effect in certain light conditions. The roof is painted in a high-gloss black to contrast with the vehicle body.
We definitely like the sense of aggression coming from the dark grille in the lower bumper. A narrow light strip extends horizontally across the front out to the left and right of the illuminated VW badge and above the innovative IQ.LIGHT LED matrix headlights, wrapping into the fenders and side panels. This light strip is continued visually to the rear end with a few interruptions.
By the way, the ID.Aero is equipped with a lithium-ion battery with a net energy content of 77 kWh. No other specs have been provided, however. Volkswagen says that this sedan will be its flagship model, so the price will reflect that. VW Canada's head of public relations, Thomas Tetzlaff, joked that it will be "priced somewhere between a used Beetle and a new Space Shuttle, but probably a lot closer to the used Beetle price."
Slated to launch in 2024, the ID.Aero will go head-to-head with cars like the Tesla Model 3, Polestar 2 and the upcoming Hyundai IONIQ 6, which is expected to be revealed by mid-July.
Back in March, the German automaker announced it will launch more than 25 new EVs in North America across its various brands (Volkswagen, Audi, Porsche, Bentley, Lamborghini) by 2030. At that point, EVs should account for 55 percent of total sales.
Watch: Volkswagen ID.Buzz Makes Global Debut