2024 Mercedes-AMG EQE: All Electric. All AMG.
The idea of a high-performance fully electric vehicle is not lost on me. I get the idea. I get the logic behind it. Having a battery-powered vehicle means instant power (it really does). There is zero lag, zero wait time for that burst of intensity to build. It is either off or on. No inbetween. But other than that, the visceral experience of a high-performance sports car is lost in a conventional EV setting.
At least I thought it was.
The moment I got behind the wheel of the 2024 Mercedes-AMG EQE 4MATIC+ my opinion was completely changed.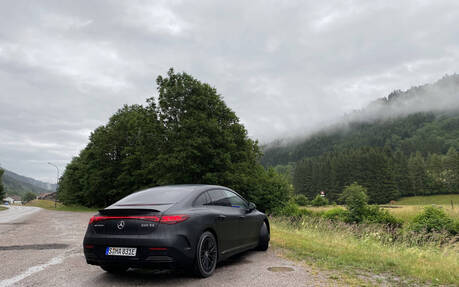 AMG… Without All the Noise
Over the years, we've gotten the chance to drive a myriad of different AMG models from the sleek and sexy GT version all the way up to the big G-Wagon bad boy. Every AMG has something different to offer, but one thing always remains the same: POWER. There is something about an AMG certified vehicle that's unlike any other performance-enhanced vehicle on the road today.
Perhaps it's the "one man, one engine" mindset they carry across all AMGs. Or maybe it's the distinctive AMG growl out the rear. The AMG crest emblazoned on the shifter, and the seat leather. Or maybe it's just the combination of it all that makes driving an AMG an experience unlike any other.
So, what happens if you take away most of what makes an AMG an AMG? The engine. The exhaust note.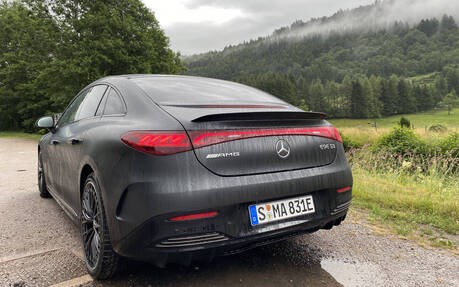 Apparently, nothing.
 The moment I got into the Mercedes-AMG EQE there was no denying it was from the German powerhouse and a potent performer on the road. This thing is QUICK. And it is nimble. And it is high-performing without all the hooplah. Without all the noise (unless you want it, but we'll get to that in a moment). It is every bit an AMG through and through - despite missing a few components.
Looking the Part
The 2024 AMG EQE is absolutely stunning to look at. Nevermind in the frozen black paint job we got to drive, in any colour. It is sleek, sexy and has a flowing silhouette that not only helps with aerodynamics, but is also easy on the eyes. The front end is smooth, and does not actually feature a frunk. Like the Mecedes-Benz EQS, it instead houses an air filtration system to help purify anything that comes into the cabin while driving. A small door on the driver's side is for access to fill the windshield wiper fluid, otherwise the hood stays permanently closed, unless opened by a Mercedes-certified mechanic.
Around the back, the rear is taught and poised as if to launch itself forward. Muscular and sporty, despite the lack of tailpipes (normally there would be four with an AMG model), it still manages to convey performance and speed with a well-engineered rear splitter for speed and downforce.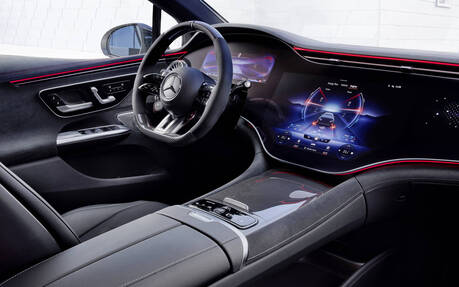 Inside, the EQE is an absolute dream. Carbon fibre, bruised chrome, piano finish, alcantara leather: You name, it's there. Oh, and did we mention the entire dashboard is a screen? That's right - from behind the steering wheel to in front of the front passenger it's essentially screens. There are 3 separate ones, but it is one gorgeous panel that stretches across the entire dash. It's stunning to look at, and so very easy to use.
Of course, all the AMG-specific settings are housed there and can be accessed in the larger middle screen or via the smaller screen in front of the passenger should they want to switch things up for the driver.
Both can toggle through Comfort, Sport and Sport+ modes which can then be further customized for steering, suspension, throttle response, and of course an "exhaust note."
Not Quite Sounding the Part
Now, here is my only gripe about the AMG EQE: the fake exhaust note. I understand what Mercedes engineers were trying to accomplish, I do. The sound emitted from the rear of an AMG is 80%of the experience (in our humble opinion). We drive without ears as much as we do our eyes and other senses. So, removing that experience from an AMG could potentially hurt the entire drive.
Well, it doesn't.
In fact, the silence of the EQE makes it all the more powerful. And when Sport+ mode is engaged and everything is heightened to the max, the fake spaceship-like exhaust "growl" just seems silly and unnecessary and doesn't add anything extra to the drive.
Good thing it can easily be turned off.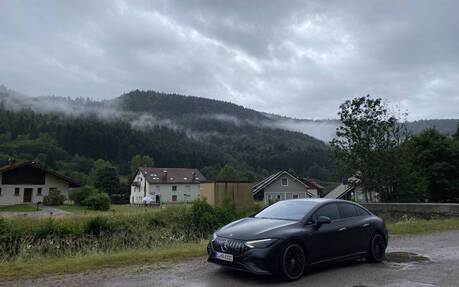 Every Bit an AMG
Now, what's most impressive about the 2024 Mercedes-AMG EQE is the drive. This thing is QUICK. Equipped with a 90.6kWh lithium-ion battery, this thing produces 617 horsepower and 700 lb-ft of torque. Read that again. And that power is available instantly. Through all four wheels, since the EQE is equipped with Merc's 4MATIC system. And this particular version of the EQE also featured something called the AMG DYNAMIC PLUS package. What that does is give you an extra boost of power and performance, jacking that horsepower number all the way up to 678 ponies and bringing the torque to 738 lb-ft.
It was almost too fast, if I'm honest. At times, my brain was telling me it was too much, but the car easily handled every corner, every braking maneuver and every acceleration. My mind was the limitation, not the car.
Range is massive, even when driving it more aggressively - anywhere from 450-500km+ depending on driving style.
The suspension ate up all road imperfections, even in Sport+ mode, keeping all occupants comfortable and contained. AMG racing seats up front ensured both driver and front passenger stayed well in place, no matter how twisty the roads got. And in the rear, bucket seats did the same for the backseat riders.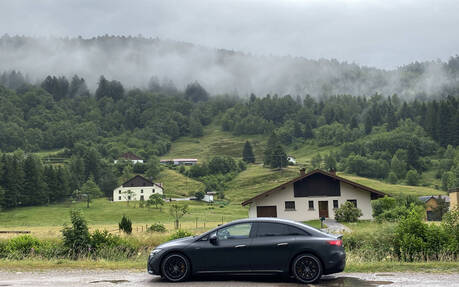 The Future is Fast
Honestly, the level of performance in this fully electric vehicle blew me away. I didn't think it was possible to experience performance in a non- internal-combustion-engine vehicle this way. But Mercedes has proven me wrong.
At the moment, pricing has not been announced for Canada, however, when it is released it's safe to say that Tesla and Porsche will have some serious competition on its hands in the high-performance EV market.
Test drive report
Test model

N/A

Trim level
N/A
Price range
N/A
Price as tested
N/A
Warranty (basic)
N/A
Warranty (powertrain)
N/A
Fuel economy (city/highway/observed)
N/A
Options
N/A
Competitive models
N/A
Strong points

Drives like an AMG
Those screens!
So much range

Weak points

Bound to be $$$$
You may need bail money
You'll never want to get out

Editor's rating
Fuel economy
N/A Not evaluated
Comfort
No matter where you sit, it's great - but driving is always best
Performance
So quick. So nimble. And so capable. Without all the gas.
Infotainment
Never have we experienced such an impressive all-screen dashboard system before
Driving
The only limitation this car has, is the driver
Overall
Absolutely stunning example of engineering and technology all wrapping in a gorgeous package.