This 6,400-Hp Beetle Could Become the World's Quickest EV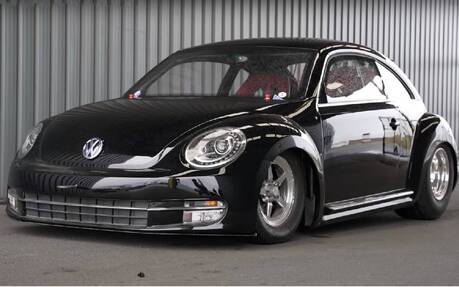 There are plenty of Volkswagen Beetle conversions out there, even some that replace the internal combustion engine with electric motors and batteries. Classic Beetles turned into EVs are simply awesome.
The one we want to talk to you about today is really special. Based on the modern-generation Beetle, it is designed to win drag races and set world speed records. Two British brothers, Olly and Sam Young, have built what they call "Black Current 4" after three previous attempts at creating an electric Beetle racer since the early 2000s.
So, here we have a 2013 Beetle whose diesel-powered TDI engine gave way to four high-performance, permanent-magnet, three-phase motors, each one generating a continuous power output of 416 kW or 558 horsepower if you prefer. But wait, the motors can be pushed to deliver a total of around 4,780 kW, the equivalent of 6,410 horsepower, incredibly. Peak torque matches the latter figure.
In the video above from the YouTube channel The Late Brake Show, we learn that the carbon fibre-bodied Beetle (which weighs just 880 kg) uses a custom 22kWh battery pack and 800V architecture. Four inverters convert the DC power coming from the battery into the AC power that is required by the motors while also controlling their rotation speed.
The chromoly tube chassis is all-new, as well. Safety and power management systems have been largely revised and updated since the Young brothers' last car, derived from a 1965 Beetle, which crashed at more than 235 km/h back in 2017.
So far, testing with the Black Current 4 has been performed at controlled speeds, but the creators expect to be able to achieve quarter-miles times in the low seven seconds. That would make it the fastest-accelerating electric vehicle in the world—well ahead of production cars like the Rimac Nevera and Tesla Model S Plaid. Stay tuned.