Oakland Citizens Secretly Fixing the City's Potholes One at a Time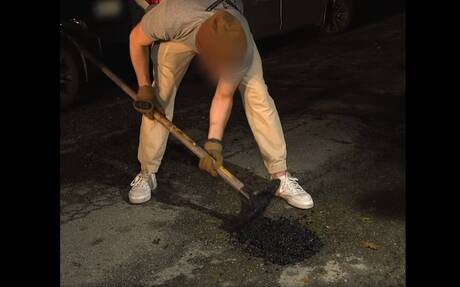 Fed up with the pitiful state of their local streets and the city's slow plan to fix them, young citizens in Oakland, California have taken matters into their own hands.
For about three years now, they've been going out at night repairing potholes one at a time. Most of them are part of a group that's actually called the "Pothole Vigilantes."
Equipped with tampers and bags of asphalt filler, they crisscross the city and fix anything that needs fixing. According to the video below, they spend about 10-15 minutes on average repairing a pothole.
These people prefer to remain anonymous since their operation is technically illegal (it's the city's department of transportation's job to repair the streets), but they say they're doing it for the greater good and have the support of the community. A website was launched to spread the word and even collect donations to keep the work going.
We've seen similar actions elsewhere in North America in the past few years. In 2017, masked individuals in Portland, Oregon started what they called the "Portland Anarchist Road Care" project.