A Blast on the Track With Hyundai's Elantra N and Kona N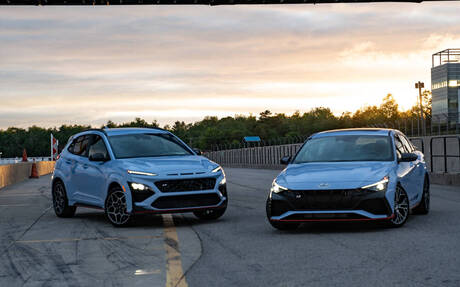 We at The Car Guide recently had the opportunity to spend a day on the track with the hot new Hyundai Kona N and Elantra N at the Canadian Tire Motorsport Park in Bowmanville, Ontario.
It was a whole lot of fun as you can imagine, but before I tell you all about it, a few words about the Korean automaker's N sub-brand…
What is N?
For Hyundai, N is a series of sport-tuned and performance-focused models—exactly like BMW's M or Mercedes-Benz's AMG. It stands for Namyang, where development takes place in South Korea, and Nürburgring, which is the legendary track in Germany that Hyundai uses for final testing.
Also, the N logo represents a succession of corners (or at the very least some kind of twisty road). N cars are therefore designed in part for the track. But how good are they? That's what we wanted to find out at the CTMP.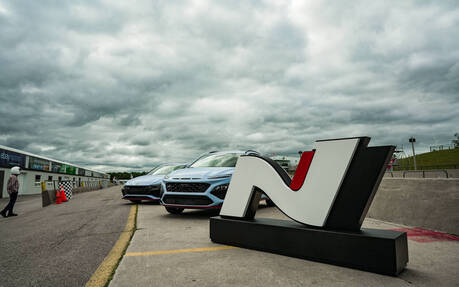 The Track
We started the day by attending a quick training session. Pro driving instructor Lawrence Howlett went over some of the various driving techniques we would use and the ideal driving position for each vehicle.
The track at CTMP is particularly fast with long, sweeping corners and multiple straightaways. However, there is also a number of elevation changes drivers need to watch out for.
Each journalist was paired with an instructor. Mine was a young race car driver by the name of Jean-Christophe Trahan. We introduced ourselves and soon hopped on board, first with me riding shotgun.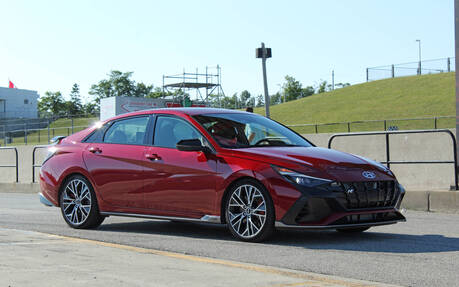 And We're Off!
Trahan took a solid jab at the throttle as we exited the pit lane. Our manual Elantra N quickly found itself hitting 130 km/h and climbing up a hill with no signs of where we'd go down after that.
In what felt like a roller coaster, Trahan made a swift turn down a four-story-high slope, then went on to skillfully combine braking and smooth cornering with hard acceleration, followed by another slope.
We shared some good laughs throughout this first lap, but I was more than happy to trade places and put the car to the test myself.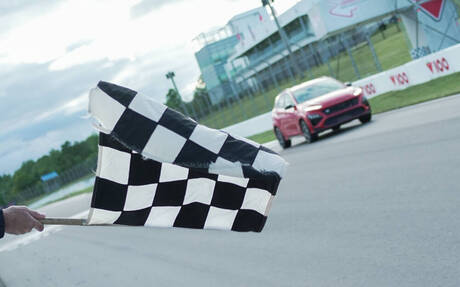 Elantra N is an Impressive Performer
The engineers at Hyundai have really created a four-door race car. The Elantra N is an impressive performer on the track. Helped by Michelin Pilot Sport 4S tires and a smartly calibrated suspension, it stays glued to the tarmac, flat and stable at all times. Weight transfers are beautifully controlled. Meanwhile, the six-speed manual transmission with rev-matching technology is a pleasure to work with and steering is very precise.
The turbocharged 2.0-litre four-cylinder engine delivers 276 horsepower and 289 pound-feet of torque in linear fashion. Even a full lap in fourth gear (sometimes at over 200 km/h) wasn't enough to overwhelm the engine or get it tired.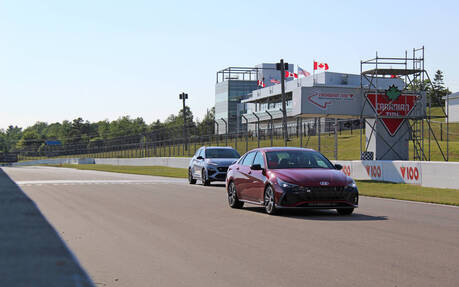 Oh, and the brakes. They showed amazing endurance all afternoon long and didn't even seem to overheat despite our repeated efforts to test their limits. As for the sport seats in the cabin, they provided excellent support and were highly appreciated, as you can imagine.
Kona N Steals the Show
Following the Elantra N, we turned our attention to the Kona N, which features the same engine, dual-clutch transmission, electronically controlled suspension and limited-slip differential.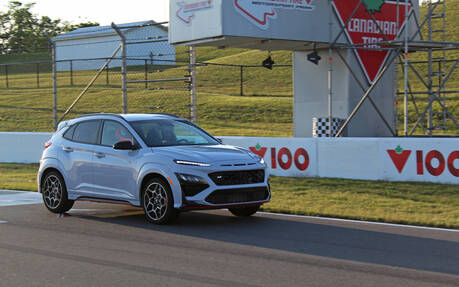 If you think this small crossover can't possibly match the sedan in terms of handling, you're wrong. The Kona N proves remarkably agile, refined and a joy to drive. While a tad slower in corners (by about 5 km/h), it still ate up the track and gave the impression that all four wheels were busy (in reality, power is sent to the front wheels only).
One of the most pleasant features is definitely N Power Shift, which engages when accelerating with more than 90 percent throttle in order to mitigate any reduction in torque during upshifts. Meanwhile, in Sport mode, N Track Sense Shift optimizes adaptive shift for racetrack driving so you can focus more on steering.
As evidenced by this thrilling experience at CTMP, Hyundai means business when it comes to N performance models. While not as smooth on the road as some of the competition, they manage to stand out on the track. For those of you who like to do hot laps from time to time, you should totally consider an Elantra N or Kona N.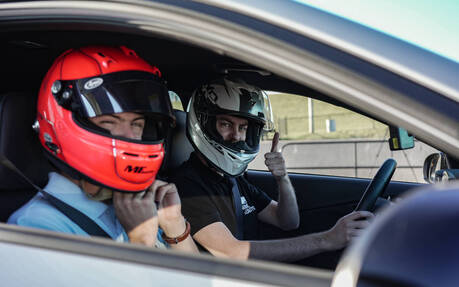 Now, excuse me, I need to go book another track day with these hot Koreans…