2022 Lincoln Corsair Grand Touring: PHEV Tech Finally in Lincoln's Small SUV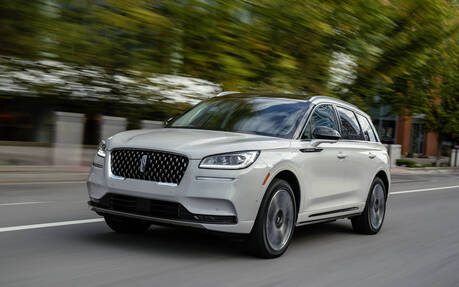 Lincoln, seeing how unpopular the MKC was, decided to shake things up for 2020. As part of a new naming strategy, Ford's luxury brand renamed its small SUV Corsair, which joined the Nautilus, Aviator and Navigator.
The Corsair is basically a glorified version of the Ford Escape. Don't blame the automaker, though—most competitors use the same approach. But while these two vehicles share a number of components, they are priced far apart and aimed at very different types of customers.
There are three models to choose from including the base Corsair, Reserve and Grand Touring. The last one is not only the most luxurious but also the sole recipient of a plug-in hybrid system.
Elegant Looks
For a long time, Lincoln designers thought it would be a good idea to emulate BMW's dual-kidney grilles, but the results weren't particularly attractive. The new, honeycomb-style mesh grille designs are much better executed, and they combine with smooth body lines to give the Corsair an elegant look.
In the rear, a light bar connects the thin but wide taillights as seen on other Lincoln SUVs. This emphasizes the vehicle's stance without giving the impression that the company tried too hard to stand out. Overall, the Corsair is stylish in a tasteful, understated way.
Even more impressive is the interior, especially the dashboard. Sure, the instrument cluster lacks flair and the various piano black accents don't stay immaculate very long, but you can't deny the level of refinement and luxury expressed by the whole driving environment. Many Cadillac models would be jealous. Though the latter boast excellent material quality, Lincoln wins in terms of overall styling.
The front seats are quite comfortable. Those in our tester were heated, ventilated, infinitely adjustable and even blessed with a massage function. The rear seats have no problem accommodating two adults, and a third passenger sitting between them wouldn't feel too much squeezed. Granted, the seat cushions could use extra padding, while headroom is a bit tight. On the plus side, the seats can slide fore and aft to increase either cargo space or passenger legroom.
Ford-Sourced PHEV Tech
Lincoln didn't have to look far to find a plug-in hybrid powertrain for the Corsair Grand Touring. The Escape PHEV was the perfect donor vehicle.
Base Corsairs rely on a turbocharged 2.0-litre four-cylinder engine producing 250 horsepower. Through an eight-speed automatic transmission. Reserve models are available with a turbocharged 2.3-litre unit putting out 295 horsepower. All-wheel drive is standard across the line.
Back to the Corsair Grand Touring. This one combines a naturally aspirated 2.5-litre four-cylinder engine with a pair of electric motors (one for each axle) and a continuously variable transmission. Total system output is 266 horsepower.
Our tester also featured an adaptive suspension along with a plethora of advanced safety and driver assistance systems. Speaking of which, you should know the 2022 Corsair has received the highest score from the U.S. Insurance Institute for Highway Safety (IIHS).
The Price to Pay
As with most modern vehicles, doors unlock automatically when you approach the Corsair. Once behind the wheel, prepare to face a set of digital gauges that are difficult to read due to poor backlighting. You have to turn your attention away from the road a bit too much as a result. Fortunately, Lincoln offers a great head-up display system with plenty of information.
There's no conventional shifter, only a series of buttons above the HVAC controls. This frees up space on the centre console but takes a while to get used to.
At startup, the combustion engine remains off and you can drive away in pure electric mode—provided the battery has enough juice, of course. Lincoln advertises a zero-emission range of 50 km, but the most we got after a full charge was 44 km. If you spend most of your time operating in EV mode and only burn gasoline occasionally, expect to achieve about 3.8 L/100 km. However, in normal hybrid operation, the Corsair Grand Touring will typically manage 7.0 L/100 km.
Despite the extra power from the electric motors, acceleration is good but certainly not great. Getting to 100 km/h from a standstill takes just over seven seconds. This vehicle impresses mainly with a silent ride and plush cabin. It's perfectly suited for long highway drives and properly maintained pavement, but you'll be disappointed if you try to push it on a twisty road or rough surfaces as it lacks the required athleticism.
So, how much does it cost? The 2022 Lincoln Corsair Grand Touring starts at $58,400 but can easily top $70,000 with the many available options. Consider yourself warned. Also, keep in mind that the automaker has just announced a recall after a small number of units caught fire. The issue is the result of a defect that can lead to a fuel leak in the event of an engine block or oil pan failure. The remedy is a modification of the under-engine shield and active grille shutter.
Watch: 2022 Ford Escape Plug-In Hybrid SEL
Test drive report
Test model

2022 Lincoln Corsair

Trim level
Grand Tourisme PHEV
Price range
$45,900 – $58,400
Price as tested
58 400 $
Warranty (basic)
4 years/80,000 km
Warranty (powertrain)
6 years/110,000 km
Fuel economy (city/highway/observed)
6,9 / 7,3 / N/A L/100km
Options
N/A
Competitive models
2022 BMW X3 xDrive30e PHEV, 2022 Audi Q5 Progressiv 55 TFSI e quattro, 2022 Volvo XC60 R-Design Recharge
Strong points

Elegant looks
Luxurious interior
Generous equipment

Weak points

High price
Soft suspension

Editor's rating
Fuel economy
Comfort
Performance
Infotainment
Driving
Overall