Cadillac Celestiq Show Car is a Future Halo Car With a New Vision of Luxury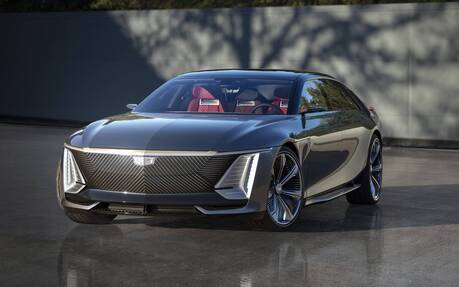 Cadillac is preparing to add a new flagship to its lineup. Unveiled today as a show car, the breathtaking Celestiq embodies the 120-year-old brand's vision of luxury for the future.
Inspiration for Cadillac designers and engineers came from the legendary V-16 of the 1930s and the 1957 Eldorado Brougham. Similar to the latter, the Celestiq will be hand-built in a small number.
"Those vehicles represented the pinnacle of luxury in their respective eras, and helped make Cadillac the standard of the world," says chief engineer Tony Roma, who explains that the Celestiq is a sedan because the configuration offers the very best luxury experience.
On the outside, the Celestiq shares many design cues with the Lyriq and actually looks like a stretched and flattened version of the crossover. Developed as an architectural masterpiece, the stately and majestic sedan rides on gigantic 23-inch wheels and GM's Ultium platform. The ultra-long wheelbase accommodates a large battery whose exact capacity has yet to be announced but promises to deliver generous range.
Under the four-quadrant, suspended-particle-device smart glass roof allowing each occupant of the vehicle to set their own level of roof transparency (a world fist), the spectacular interior of the Celestiq boasts stunning attention to detail and some of the finest materials—the kind you won't see in a Bugatti or Koenigsegg according to Cadillac's interior design manager, Tristan Murphy.
The main highlight, of course, is the assortment of five high-definition, advanced LED interactive displays including a 55-inch, pillar-to-pillar screen on the dashboard that's designed to allow front passengers to enjoy video content while blocking it from the view of the driver. The other displays are found on the front and rear centre consoles as well as on the back of each front seat. Also, check out the galaxy of LED lights within the door panels, where the controls for the multi-way adjustable front and rear seats reside. 
There will be a ton of advanced technologies and comfort creatures, too. Most of them have yet to be detailed, but you should know that GM's next-generation hands-free driving assistance system, called Ultra Cruise, will be offered.
An earlier report by The Wall Street Journal claimed the price could hover around $300,000 USD before customers even start adding extras. In other words, Cadillac wants to step on the same turf as Rolls-Royce and Bentley.
So, when will the Cadillac Celestiq hit the market? That remains to be announced, but GM is investing $81 million USD to support production at its Global Technical Centre in Warren, Michigan. Look for more details to surface later this year.