Police-Rated Ford
F-150 Lightning

Pro SSV to Creep up on Criminals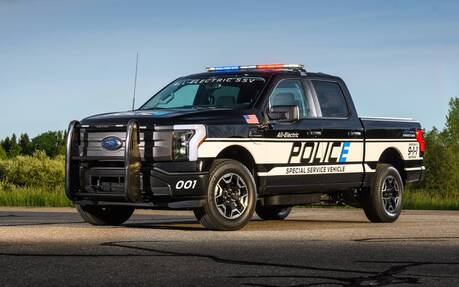 Following the latest-gen Ford F-150 Police Responder introduced last year, it was only a matter of time before the company would strike back with a fully electric variant based on the all-new F-150 Lightning. This is it.
"We're proud to offer America's first electric police pickup truck to local government customers who can use the truck's game-changing technology to help improve their productivity," said Nate Oscarson, sales manager at the Ford Pro commercial vehicle unit. "Pro Power Onboard can serve as a mobile power source2 to light up evening accident scenes on the highway, the electric powertrain helps to potentially reduce costs associated with fuel and scheduled maintenance needs3 and the Mega Power Frunk provides extra lockable storage on top of purpose-built police additions." 
The 2023 Ford F-150 Lightning Pro Special Service Vehicle (SSV) offers a choice of two batteries as does the consumer model. With the 98kWh pack, output is rated at 452 horsepower and the truck can tow up to 7,700 pounds. When selecting the extended-range 131kWh battery, it delivers 580 horsepower and pulls up to 10,000 pounds. Peak torque is 775 pound-feet in both cases, enabling 0-100 km/h acceleration in four seconds or less—perfect for catching offenders and criminals.
Of course, it's not just about assisting law-enforcement agents in pursuit situations. Some purpose-built features shared with the F-150 Police Responder include:
Police-grade heavy-duty cloth seats with reduced bolsters to help holstered officers enter and exit the vehicle more easily
Built-in steel intrusion plates in the front seatbacks
Available red/blue, amber/white roof-mounted LED warning beacons
An upfit-friendly reinforced instrument panel top tray for easy mounting of police equipment
Easy-to-clean vinyl rear seats and vinyl flooring
And naturally, all of the onboard technologies in the F-150 Lightning are carried over, such as the 12-inch digital cluster screen and 12-inch centre touchscreen, SYNC 4 with over-the-air Ford Power Up software updates, and the Co-Pilot360 suite of advanced safety and driver assistance systems.
What's more, police departments will be able to manage their fleets using Ford's E-Telematics system and take advantage of consultative services related to charging installation and operation, data management and digital services.
Ford says it will provide more information on the 2023 F-150 Lightning, including range (the 2022 model is capable of 370-515 km depending on the battery), later this summer.
Watch: 2021 Ford F-150 Police Responder Suits up for Duty