Chevrolet
Silverado EV

Has Over 150,000 Reservations Now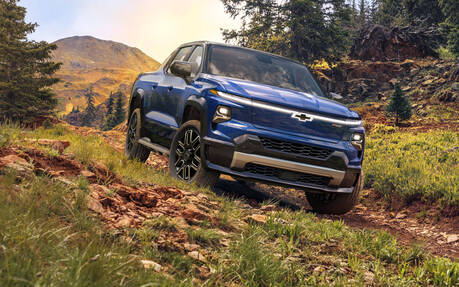 At around the same time General Motors launched a new website to educate consumers about electric vehicles, the automaker announced that demand for the upcoming 2024 Chevrolet Silverado EV keeps increasing rapidly.
More than 150,000 reservations have now been made for Chevy's electric pickup, including some 85,000 for the commercial variant called WT (Work Truck). Pricing ranges from $52,448 to $119,948 plus $2,300 destination.
The top-line RST First Edition, remember, sold out in just 12 minutes when reservations opened following the official debut on January 5 of this year.
Those 150,000 reservations for the Silverado EV are still well short of the 200,000 Ford managed to receive for the F-150 Lightning before it decided to stop taking reservations.
Chevrolet can rejoice in the fact that around 65 percent of its reservation holders have never owned a vehicle from the brand in the past, making all of them conquest customers.
The Chevrolet Silverado EV can travel up to 640 kilometres with a full battery, generate as much as 660 horsepower and 780 pound-feet of torque, tow up to 10,000 pounds and haul a maximum of 1,300 pounds in the cargo bed. An adaptive suspension, four-wheel steering, 17-inch infotainment display and Super Cruise hands-free driving assist are all available.
Lower-end trucks will boast 510 horsepower and 615 pound-feet of torque, achieving towing and payload capacities of up to 8,000 pounds and 1,200 pounds, respectively. However, Chevy has also hinted at a stronger model with up to 20,000 pounds of towing power, not to mention a rugged Trail Boss.
If you prefer GMC, don't worry. As previously reported, a Sierra EV will slot below the Hummer EV as a more affordable, less extreme alternative.