2023 Mazda CX-50: A New Offensive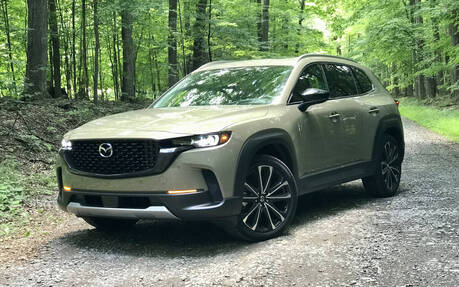 SUVs are big business, not only here in North America but also in other markets overseas, which is why Mazda is investing big bucks to bolster its lineup. The all-new 2023 Mazda CX-50 is just the start as it will be followed shortly by the CX-70 and CX-90. Similar to all of the brand's products, styling and driving dynamics are put above everything else.
Before going any further, you should know that production takes place in Huntsville, Alabama at a new joint venture assembly plant shared with Toyota. The CX-50 is designed as a more adventurous SUV, whereas the current CX-5 is a traditional urban crossover. It will be interesting to see how these two coexist going forward.
One thing's for sure, Mazda designers nailed the looks of the CX-50, which manages to appear both rugged and refined at the same time. Next to a Subaru Forester Wilderness or Toyota RAV4 Trail, which sport questionable body cladding and add-ons, the CX-50 makes a fairly clear statement without becoming a caricature of itself.
Premium Interior
The premium looks on the outside are mirrored by the quality materials and superb fit and finish on the inside. While most Mazda vehicles can be described as upscale, the new CX-50 raises the bar especially when dressed in magnificent terracotta leather.
Also typical of Mazda is the ability to quickly find an ideal driving position. Ergonomics are nearly flawless, but it's a shame that the centre display's touchscreen capability only works with Apple CarPlay and Android Auto. Seriously, what's up with that?
Strong Turbo Engine
Two engines are available with the 2023 Mazda CX-50. The naturally aspirated unit comes standard, while the turbocharged one is optional. Both can run on regular gas, though you'll get more power and torque if you fill the tank with premium gas.
While driving a CX-50 GT Turbo around town and out in the country, we found that torque is abundant and that the six-speed automatic transmission does an excellent job in any situation. Still, Mazda could have joined a number of competitors by using an eight-speed mixer instead, which would have helped improve fuel economy.  
Towing capacity with the turbo engine is up to 3,500 pounds, and the various drive modes make it possible to quickly adjust driving dynamics depending on the conditions. In Normal mode, the transmission will upshift sooner, while in Sport mode, it will hold gears so you have more torque at your disposal, like when you want a quick exit out of a corner.
With Tow mode activated, the G-Vectoring Control system increases torque distribution so that steering remains precise and trailer sway is reduced. The final mode is Offroad and, as the name implies, it optimizes grip on loose terrain including gravel roads and muddy trails. Once you return to pavement, the CX-50 displays outstanding agility and proves more fun to drive than any rival.
Our Verdict
Overall, the 2023 Mazda CX-50 is an excellent product that would be even better with an eight-speed transmission and full-time touchscreen capability. A hybrid variant would be nice, too. Look for it to arrive next year, likely as a 2024 model.
Test drive report
Test model

2023 Mazda CX-50

Trim level
GT Turbo
Price range
$37,900 – $46,000
Price as tested
45 350 $
Warranty (basic)
3 years/unlimited
Warranty (powertrain)
5 years/unlimited
Fuel economy (city/highway/observed)
10,4 / 8,1 / 9,8 L/100km
Options
N/A
Competitive models
2022 Subaru Forester Wilderness, 2022 Subaru Outback Wilderness, 2022 Toyota RAV4 Trail AWD, 2022 Ford Bronco Sport, 2022 Jeep Cherokee Trailhawk 4x4
Strong points

Great looks
Superb material selection, fit and finish
Enhanced performance and capability
Top-notch handling

Weak points

Six-speed transmission only
Touchscreen capability with Apple CarPlay and Android Auto only
No hybrid variant for now

Editor's rating
Fuel economy
The CX-50 burns more fuel than most competitors.
Comfort
The seats are very comfortable and the ride is generally smooth.
Performance
A strong turbo engine paired with a competent AWD system makes for a winning combination.
Infotainment
The centre display's touchscreen capability only works with Apple CarPlay and Android Auto.
Driving
No competitor is more fun to drive.
Overall
An excellent product overall.