The Car Guide's Best Buys for 2022: Chevrolet Corvette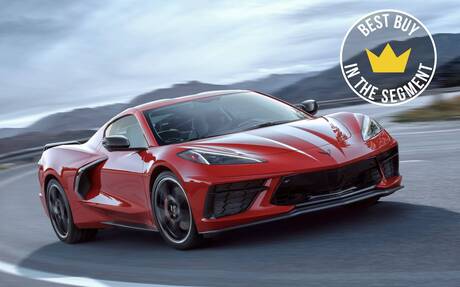 Every year, The Car Guide unveils a list of Best Buys covering all the different vehicle categories in the industry.
When it comes to premium sports cars, emotion is what really drives customers. Some manufacturers manage to stand out with exceptional albeit highly expensive products.
The Winner
For 2022, the Chevrolet Corvette gets our Best Buy award as the popular Porsche 911 slips into second place. The latter remains an outstanding sports car, but the Corvette delivers amazing track performance at a much lower price.
The current generation introduced for 2020 is the first-ever with a mid-engine configuration, resulting in much better weight distribution and handling levels that rival exotic cars worth two or three times more. The 2022 Chevrolet Corvette starts at $73,348.
Other Finalists
Right behind the Corvette is the Porsche 911. In fact, the tight gap separating the two is basically just a matter of pricing. Starting at $121,200, the German icon boasts exemplary road and track skills, tremendous build quality and a large selection of models. Too bad it's so expensive.
As for third place, we picked another car hailing from Stuttgart. Actually two—the Porsche 718 Boxster and Porsche 718 Cayman, the latter featuring a fixed hardtop. Both are cheaper than the 911 and deliver remarkable handling. By the way, the next generation will be fully electric, so grab a copy of the conventionally powered models while you still can.