Converting Your Vehicle Into a Camper: What You Need to Know
The "van life" movement has become so popular over the last 20 years that several companies now sell or rent small vans that are fitted with everything you need for a camping weekend, or a good old road trip across the country. The prices vary widely, some adventure-ready vehicles even exceeding $100,000!
For those who have great ambitions and like to do things themselves, a conversion kit that transforms your minivan into a camper could be the perfect solution. There are a few manufacturers out there, like eCamp and Freeway Camper Kit. The first offers kits under $5,000 for a minivan similar to a Dodge Grand Caravan.
Know What You're Getting Into … Literally
Be careful what type of vehicle you choose: a Westfalia remains the coolest van you can get, but the interior is rather cramped. Converting an old Ford Econoline or a retired school bus also has its charm, but the vehicle must be reliable and in good enough condition to last, otherwise your trip across the country could quickly turn into a trip to the garage, ending the "van life" much too soon. By the way, this is another important point: will you be able to sell it once your travelling days are over? Potential buyers are not exactly easy to find!
What are the best vans for such a transformation? CAA-Québec recommends the Ram ProMaster, a cost-efficient and versatile vehicle that has the simple mechanics of a Pentastar V6. The Chevrolet Express, the GMC Savana, the Ford Transit and the Mercedes-Benz-Sprinter are good candidates for the conversion too.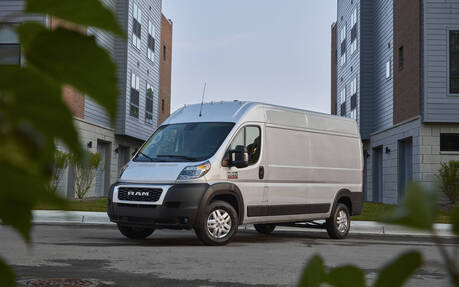 Follow the Rules
Legally speaking, no modifications can be made to "automobile elements" that are regulated by Transport Canada. For example, it's possible to keep only the two front seats that are already approved by the manufacturer, but if you want to add seats in a commercial van, they must be installed by a company that's certified with Transport Canada's National Safety Mark.
Of course, you should also deal with professionals for any installation related to electricity or propane, otherwise you are likely to overlook crucial information like the distance that must separate the power source from any moving parts, or the tank from any source of heat, etc. Also, use fireproof materials as much as possible and don't forget to install carbon monoxide, smoke and propane detectors, if applicable.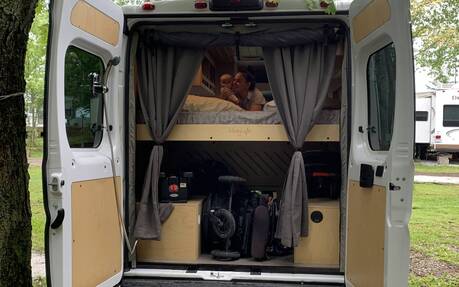 You should also respect the gross vehicle weight rating (GVWR), which is the sum of the vehicle's net mass and its maximum load capacity as determined by the manufacturer. This is crucial to ensure safe road handling. The more equipment you bring aboard, the heavier the vehicle gets, and the less people, clothes, food, water or sports equipment you can carry.
By keeping the GVWR under 4,500 kg (9,920 lb), no inspection will be needed after the conversion. According to the Société de l'assurance automobile du Québec, minivans converted into campers remain light vehicles and are not subject to the regulations that apply to heavy vehicles like motor homes.