1955 Ferrari 410 Sport Sells for $28.6 Million at Monterey Auction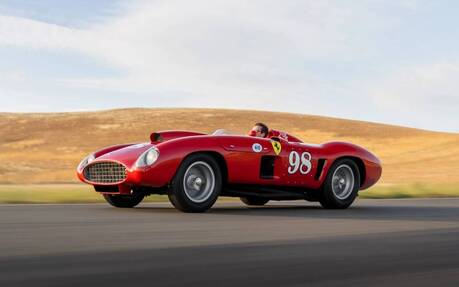 Just as we anticipated, the 1955 Ferrari 410 Sport (chassis number 0598 CM) proved to be the star of the RM Sotheby's auction in Monterey, California, this past weekend, selling for an astronomical $22 million USD. That's the equivalent of $28.6 million CAD at the current exchange rate.
Obviously, no other vehicle traded hands for a higher price during the 2022 edition of the prestigious summer event.
This particular 410 Sport is the car that propelled Carroll Shelby to national attention and became the most successful racer of the respected John Edgar team back in the 1950s. It was also driven by a who's who of the era's greatest racing drivers including Juan Manuel Fangio, Phil Hill, Richie Ginther, Masten Gregory, Joakim Bonnier, Bruce Kessler, Jim Rathmann and Chuck Daigh.
Shelby once told the Los Angeles Times, "Nothing can touch this Ferrari if it runs." Decades later he added, "It was the best Ferrari I ever drove." He also autographed and wrote a message on the fuel tank that says, "Mr. Ferrari told me that this was the best Ferrari he ever built."
Furthermore, you must know that it's one of just two factory-campaigned examples that were fitted with the more powerful, twin-plug-per-cylinder version of the 4.9-litre Lampredi V12, the automaker's biggest engine ever at the time. At nearly 400 horsepower, it produced 40 horsepower more than the initial pair of 410 Sport customer-delivery Speciales. 
Between 1956 and 1958, the precious 410 Sport 0598 CM won 11 of the 40 races it took part in and secured 19 podiums. Over the years, it has changed owners a few times and been featured in a large number of vintage racing and exhibition events worldwide. In late 2012, it was returned to the good hands of Ferrari experts for a complete engine rebuild that took over three years to complete in 2016. The Scaglietti-designed and built body is faithfully presented in its period livery.
The sale in Monterey was accompanied by the first (1956) and last (1958) trophies won by Shelby driving the 410 Sport 0598 CM, along with the original 1957 Nassau racing license plate.