Hyundai Palisade, Kia Telluride Recalled Due to Fire Risk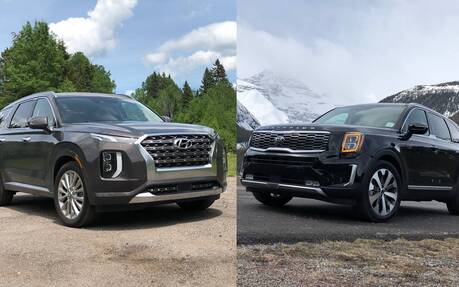 Electrical shorts threatening to cause a fire are something many Hyundai and Kia owners are familiar with, as evidenced by the various recalls to date. This week, more than 285,000 Palisade and Telluride SUVs from the 2020-2022 model year in the U.S. find themselves in that position after at least three of them caught fire in past months.
The number of affected units on this side of the border is 6,871 according to Transport Canada.
The issue is specific to Palisades and Tellurides equipped with a four-pin accessory tow hitch harness, whether it was installed at the factory or at the dealership. Debris and moisture accumulation can cause a short on a circuit board inside the harness module. 
The recall notice advises owners to park their vehicle outside, away from structures and other flammable objects, until a repair is performed.
As an interim solution, dealers will inspect the wiring harness module and remove the "TRAILER" fuse in the under-hood fuse box, as necessary, free of charge. The final remedy is currently under development and should be ready sometime this fall. Affected owners will receive a mailed notice by then.
This recall obviously doesn't change the fact that the Hyundai Palisade and Kia Telluride are the best buys in the three-row midsize SUV segment for 2022 according to our team at The Car Guide. Both can tow up to 5,000 pounds with their 291-horsepower V6 engine. They also offer plenty of value.
And since the 2023 Palisade and 2023 Telluride each benefit from a proper mid-cycle update including fresh styling and new technology, they will prove even more appealing to Canadian families. Click on the links to learn more about them.