2022 Kia EV6: The Korean Advantage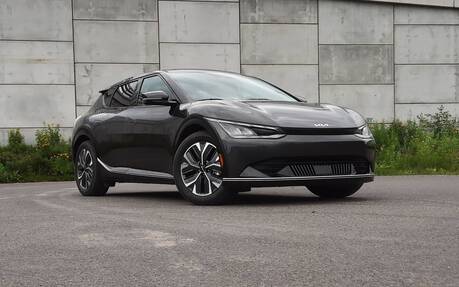 The all-new 2022 Kia EV6 electric crossover has been on sale in Canada since March of this year. It's an excellent product, but like many other Kias, it remains overshadowed and outsold by its Hyundai counterpart. We're talking about the IONIQ 5, which happens to be the reigning World Car of the Year.
In the second quarter of 2022, the latter sold 1,472 units in Canada making it a common sight on the road, while only 374 copies of the EV6 left Kia dealerships. You can blame supply issues and limited production for the long delivery times (up to two years), but how do you explain the gap between these two Korean models which, underneath the surface, are so similar? Good question. One thing's for sure, the competition is heating up and the EV6 will soon have to face new rivals including the Toyota bZ4X, Subaru Solterra and Nissan Ariya, among others.
Matching Prices
Developed alongside and built on the same E-GMP platform, the Kia EV6 and Hyundai IONIQ 5 are priced in the same ballpark, naturally. However, Hyundai offers a third RWD model instead of two in order to attract customers who want a bit more content than the base while still paying less than $50,000, freight and PDI included.
The entry-level EV6 costs $47,110, while at the other end of the lineup the GT-Line Group 2 (sort of the equivalent of the IONIQ 5 Preferred with Ultimate Package) retails for $64,110. Don't forget the federal EV rebate of $5,000 plus provincial rebates of up to $7,000.
Battery and Range
In order to get the extremely useful thermal management system a.k.a. heat pump that maximizes range in cold weather (not to mention other desirable features like wireless smartphone charging, a driver's seat memory function and tinted rear glass), EV6 customers have no other choice than opting for the larger battery pack, which increases the price to at least $55,110.
Speaking of the battery, with 77.4 kWh capacity it allows a range of up to 499 km in ideal conditions. Spend an extra $2,000 for a second electric motor and AWD, and range drops to 441 km according to the official ratings. In either case, that's impressive and highly competitive—even when compared to the IONIQ 5, which is rated at 488 km and 414 km, respectively. As for the smaller battery, a 58kWh pack, it manages to deliver 373 km of range.
To Each His Own
Electric crossover models are still few and far between, so each one positively stands out from the others and can appeal to different people—from the Ford Mustang Mach-E to the Volvo XC40 Recharge to the Volkswagen ID.4. The Korean duo couldn't be more different, too: the IONIQ 5 has angular, retro-inspired looks, while the EV6 is all about curves and aerodynamics. Such diversity is quite refreshing.
Our tester kind of flew under the radar dressed in Interstellar Grey, but Kia has more attractive options such as Runway Red and Yacht Blue which can be ordered even in base trim. GT-Line models sport unique wheels, but you'd be hard-pressed to tell them apart otherwise. On a practical note, the door openings aren't very large making access a bit harder, while the available storage under the hood barely accommodates a few tools and accessories. There's no proper front trunk like the one in the Tesla Model Y. And as other colleagues have previously pointed out, a rear window wiper is missing.
Accommodating Interior
Inside, the Kia EV6 may turn some people off with a dark layout, but it's actually quite well designed and user-friendly once you've settled in. Synthetic leather combines with either fabric or suede depending on the model. Space and comfort are generous in both rows (enough to accommodate five adults), from the seat bottoms to the headrests. What's more, no excessive or undesirable noises are revealed by the absence of a combustion engine.
Unlike the IONIQ 5, the EV6 features a real centre console with convenient storage underneath. You can rest your hand and forearm while your fingers are busy playing with the touch-sensitive controls and rotary knobs, which switch from HVAC mode to nav/media mode at the simple push of a button. A clever move by Kia, though one that requires some getting used to.
Dual 12.3-inch displays mounted side by side, with clear and attractive graphics, add to the EV6 driving experience. Kia's infotainment system still ranks among the best in the business. You can easily find charging stations nearby, but they're based on distance as the crow flies which can be misleading at times. The company should address this. Another irritant is the size of the pillars and side mirrors affecting visibility for the driver.
Lively, Strong and Efficient
What about performance? A single-motor Kia EV6 will generate a meager 168 horsepower with the smaller battery and 225 horsepower with the bigger battery, backed by 258 pound-feet of torque in both cases. Meanwhile, dual-motor models put out 320 horsepower and 446 pound-feet of torque. Now that's pretty hard to complain about. Acceleration is lively, even forceful in Sport mode. Just in case you want maximum thrills, an EV6 GT with 577 horsepower, 546 pound-feet of torque and 0-100 km/h sprints in about 3.5 seconds is coming soon.
On the road, the EV6 proves smooth and confident, though steering is on the light side. One-pedal driving is possible when you set regenerative braking to level 4. Unfortunately, at 2,114 kilograms with the dual motors and big battery, you can definitely feel its heavy weight in corners and quick S-turns. One benefit with this configuration, mind you, is that the EV6 is able to tow up to 2,300 pounds. If you settle for the small battery, towing is not recommended.
At the end of the week, our tester posted combined energy consumption of 17.7 kWh/100 km, which is quite good given its size and potential. Thanks to an 800V architecture (identical to the IONIQ 5's yet something few other EVs can brag about), the EV6 can theoretically charge at up to around 230 kW when plugged into a DC fast charger. Using one of Electrify Canada's 350kW chargers on a morning when the outside temperature was 15 degrees Celsius, it couldn't extract more than 127 kW and therefore required 16 minutes to replenish the battery from 40-80 percent (a process that gave back about 175 km of range).
That's still very good, but we expected better. Kia claims 10-80 percent charging is possible in 18 minutes. With a 50kW charger, the same operation takes 73 minutes. As for level 2 charging at home (240V AC current), prepare to wait 7 hours and 10 minutes.
Bottom Line
The all-new Kia EV6 is off to a slow start in terms of sales but represents by far one of the best buys in the electric vehicle segment. If it weren't for the long delivery times, we'd tell you to order one without any hesitation.
Test drive report
Test model

2022 Kia EV6

Trim level
Autonomie Prolongée TI
Price range
$44,995 – $70,000
Price as tested
CA$54,995
Warranty (basic)
5 years/100,000 km
Warranty (powertrain)
5 years/100,000 km
Fuel economy (city/highway/observed)
N/A
Options
N/A
Competitive models
2022 Ford Mustang Mach-E, 2022 Hyundai IONIQ 5, 2023 Toyota bZ4X, 2023 Subaru Solterra, 2022 Tesla Model Y, 2022 Volvo XC40 Recharge Electric AWD, 2023 Nissan Ariya, 2023 Volkswagen ID.4
Strong points

Excellent range and efficiency
Remarkable interior
Strong performance combined with a smooth ride
Towing is possible up to 2,300 lbs

Weak points

Limited trunk and visibility
No rear window wiper
Smallish door openings
Heavy weight is felt in corners

Editor's rating
Fuel economy
Our tester achieved 17.7 kWh/100 km, which is quite good given its size and potential. Range is excellent.
Comfort
Space and comfort are generous in both rows. No excessive or undesirable noises are revealed by the absence of a combustion engine.
Performance
The dual-motor, AWD-equipped EV6 delivers forceful acceleration and can tow up to 2,300 lbs.
Infotainment
Kia's infotainment system still ranks among the best. Some of the controls require a bit of getting used to.
Driving
Smooth and surefooted, the EV6 feels heavy when you attack corners and quick S-turns.
Overall
Kia makes a very strong case for EV buyers. Too bad about the long delivery times.