PEI Company Turns Old Toyota Corollas Into Small Electric Pickups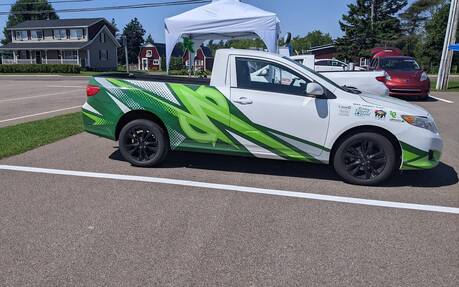 Decade-old Toyota Corollas can still prove a smart purchase for students or families in search of a dependable, low-cost second car.
Some of them can even be turned into electric pickups these days. Seriously. Upcycle Green Technology in Stratford, PEI has been working on prototypes for the past two years and is now ready to accept orders.
But why the Corolla? Well, you must know that Natal Antonini and Magali Freiberger, the couple at the helm of Upcycle Green Technology, come from Brazil, a country where small pickups are quite popular. According to them, there's currently a market in Canada for this type of vehicle.
Of course, their unique pickups based on 10th-generation Corollas (2009-2013) are much different from a Ford Maverick or Hyundai Santa Cruz, but Antonini believes they can attract a number of public and private fleet owners as well as self-employed professionals including plumbers, electricians, locksmiths, gardeners and more—many of whom could use an open cargo bed but don't need a big, gas-guzzling truck.
In an interview with CBC, the chief engineer says customers can expect to pay just $2.50 to power their pickup for 100 kilometres. Range is a modest 150 kilometres, but the price is an eye-opener: $35,000. Roughly two dozen orders (deposit required) have already been taken.
A second, more expensive model offering longer range is also part of the plan.
With support from the provincial and federal governments along with the University of Prince Edward Island, Upcycle Green Technology is gearing up to build 100 units per year at first before ramping up production in the near future.
Watch: 2023 Toyota GR Corolla is Electrifying in Another Way