2024 BMW Alpina XB7 is Refreshed and Cranked up to 630 Horsepower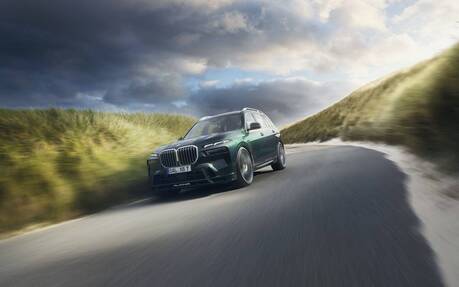 The BMW X7 has received a series of cosmetic, mechanical and technological updates for the 2023 model year. Following a first drive that took place near the Spartanburg assembly plant in South Carolina, we now have lots of details to share about the most powerful and exclusive model in the lineup.
Set to go on sale in Canada as a 2024 model, the new BMW Alpina XB7's refresh includes the same controversional front end that we saw earlier this year, with a larger grille and split headlights. No matter what you think, this is one stout SUV and it shows. The new front bumper with chiseled air intakes is obviously unique to the Alpina package.
630 Horsepower
The twin-turbocharged 4.4-litre V8 engine lying under the hood comes from the X7 M60i, but the XB7 now generates 630 horsepower, an increase of 18 horsepower. Peak torque remains unchanged at 590 pound-feet, but drivers can access it a bit sooner, more specifically from 1,800-5,600 rpm.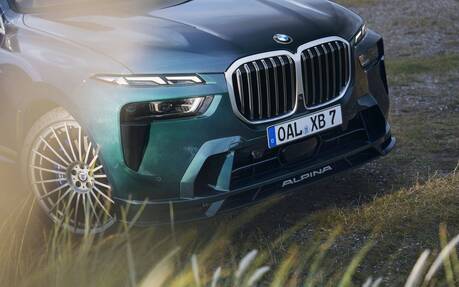 The engine is assisted by a unique cooling system and 48V battery creating a mild hybrid setup. It is mated to a revised eight-speed automatic transmission and all-wheel drive system with an electronic limited-slip rear differential.  
The result is 0-100 km/h acceleration in four seconds and a quarter-mile time of 12.4 seconds. Remember, this burly three-row SUV weighs nearly 6,000 pounds. By the way, top speed is 290 km/h when riding on 21-inch wheels and performance tires, but who's going to hit the track with the XB7? Probably nobody.
Control is the Other Half of the Story
The revised suspension featuring Alpina-specific dampers allows ride height to increase by 4 cm when travelling at 30 km/h or slower. Conversely, with Sport mode activated, it can drop by 1.25 cm when driving at 160 km/h or faster. Again, we don't have any autobahns here in Canada, so unless you step on a race track, you won't be able to take advantage of that.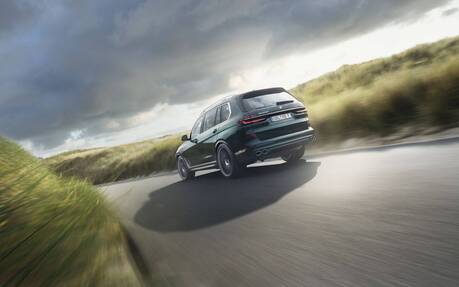 The great news is that the almighty Alpina XB7 gets reinforced torsion struts, stiffer rear-axle bushings and electromechanical anti-roll bars for increased rigidity and reduced body roll. Rear-wheel steering improves low-speed agility and high-speed stability, while the brakes use four-piston Brembo callipers (naturally painted in Blue with Alpina lettering in white).
We forgot to mention that the standard wheels in a Classic design measure 23 inches in size and are wrapped in Pirelli summer tires with a staggered setup—285-width up front and 325-width at the rear.
A final word about the cabin, which boasts an Alpina infotainment controller and gear selector, illuminated door sills and a unique, Lavalina leather-clad steering wheel with blue and green stitching. The digital instruments are accented by Alpina blue and change to Alpina green when in Sport or Sport+ mode.
Deliveries of the 2024 BMW Alpina XB7 in Canada will start sometime next year after the U.S. market. Canadian pricing has yet to be announced. Also, don't forget that BMW will soon unveil the production version of the XM concept, a future 740-horsepower SUV that will be exclusive to BMW's M division.
Watch: The Car Guide Drives the All-Electric BMW iX