2024 Mercedes-AMG C 63 S Arrives With 671 Electrified Horses
The new Mercedes-Benz C-Class lineup is now complete with the addition of the sensational 2024 Mercedes-AMG C 63 S E Performance, which sits well above the base C 300 and the mid-grade AMG C 43 in terms of power and sportiness.
We have a separate story detailing the various mechanical and technological aspects of the car following a discussion with Mercedes-AMG's technical director, Jochen Hermann, but here's a quick overview.
Hybrid Four-Cylinder Replaces the V8
The outgoing generation made a name for itself with a turbocharged 4.0-litre V8 engine producing as much as 503 horsepower, but we have a whole other type of powertrain under the hood this time around. As the "E Performance" moniker suggests, electrification is now part of the equation.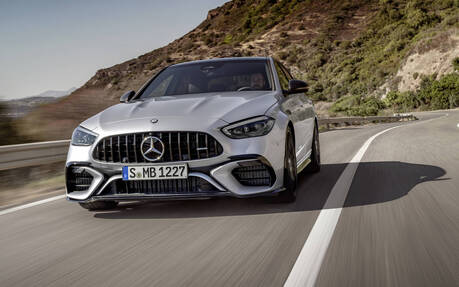 A turbocharged 2.0-litre four-cylinder engine—different from the one you'll find in a standard C-Class and the most powerful four-cylinder on the planet (469 hp)—teams up with a rear electric motor fed by a very unique 6.1kWh battery. Together, they generate no less than 561 horsepower—or up to 671 horsepower for 10 seconds when Overboost is activated—as well as 752 pound-feet of maximum torque.
A more advanced 4MATIC+ all-wheel drive system distributes power to the wheels and contributes to 0-100 km/h acceleration in just 3.4 seconds—half a second quicker than the 503-horsepower BMW M3 Competition.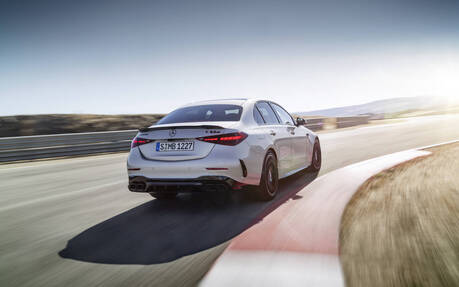 By the way, the electric turbocharger is assisted by a 48V motor to increase response and reduce lag. As for the battery, it provides a range of 13 kilometres according to the automaker.
Restrained Looks
In terms of styling, the new 2024 Mercedes-AMG C 63 S E Performance barely stands out from the C 43. It does feature redesigned air intakes on the lower front bumper, small air vents with a "Turbo E Performance" badge on the front fenders, unique wheels, plus a slightly more prominent rear spoiler and diffuser. The quad tailpipes have trapezoidal exhaust tips instead of round ones.
The interior is basically the same: sport seats with contrast stitching and inserts, sport steering wheel with a drive mode selection dial, 11.9-inch vertical touchscreen and 12.3-inch digital cockpit. The latter comes with model-specific displays and data, mind you. Of course, augmented-reality navigation, head-up display and an AMG track recorder are available.
The 2024 Mercedes-AMG C 63 S E Performance will go on sale in Canada next year and pricing will be announced closer to launch. For the record, the old one started at $89,700 in four-door sedan configuration, but you can expect a substantial increase.
Watch: 2023 Mercedes-AMG C 43 Review