2023 Mercedes-Benz EQS 580 4MATIC SUV: Bigger, Bolder and Battery Powered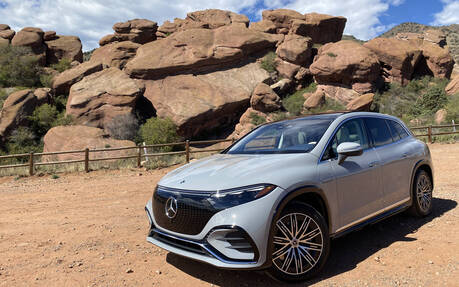 Denver, CO - Car manufacturers and athletes often flock to places like Denver and Aspen to properly test and train, respectively thanks to the thinner air. Engines lose power at higher altitudes with less oxygen in the air to combust appropriately, and athletes lose stamina as they can't get enough oxygen to their blood. It's a solid test of both "machines."
But one thing's for sure, the altitude did very little to affect the all-new 2023 Mercedes-Benz EQS 580 SUV we drove up well past 10,000ft above sea level. While yours truly suffered something terrible at that height, the EQS drove it like it was nothing - and rightfully so being fully electrified.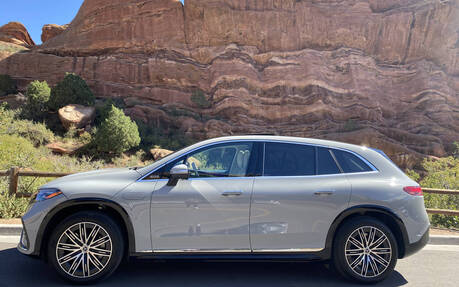 An EQS All Pumped Up
Now, you'll all remember the EQS sedan review from a few months ago. The message there was: Watch out Tesla. And truthfully, the message is the same here, but not just for Tesla, for all luxury carmakers who are considering entering the fully electric SUV market. Mercedes has taken this segment by the proverbial horns and harnessed all the class and performance it can muster in one vehicle.
The likeness between the EQS sedan and SUV is apparent, of course, with the main difference being size and ride height. Sitting inside the EQS SUV, you'd be hard-pressed to find a real difference between the car and it. However, there is one small difference - and it might just be my favourite.
Going forward, Mercedes will now offer an optional interior spec that allows the owner to apply a Mercedes star pattern on top of a gorgeous exposed woodgrain finish. And that same star pattern can be applied to the front grille, as well as an optional set of wheels. The look is high-fashion and class all at once. It is meant to mimic the likes of Louis Vuitton or Coach/Michael Kors - those brands that use their logo as patterns and proudly flaunt them. Well, it's about time Mercedes took that tri-star symbol and flaunted it - and this is the perfect model to introduce such a design element.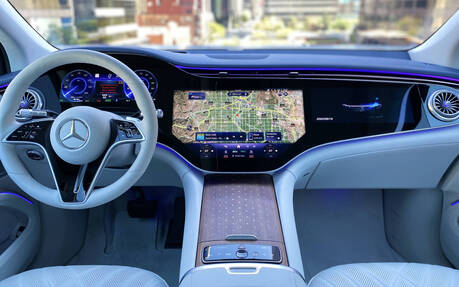 Futuristic is an Understatement
In terms of the rest of the interior space, the gorgeous and massive MBUX Hyperscreen is available, of course. And honestly, if you are dishing out the dollars for the EQS SUV, please don't skimp on the larger screen. It is so intuitive and easy to use, and it looks absolutely phenomenal inside the EQS. Completely customizable, the Hyperscreen gives access to your front seat passenger to listen to their own music or watch a movie with Bluetooth headphones connected, while the driver can listen to their own entertainment or onboard navigation system.
Of course, the ambient lighting can be adjusted in a plethora of ways, ensuring the mood is just right in the cabin at all times.
Now, the only bit of technology we found to be a little bit "too much" was the augmented reality for the navigation system. This is not the first time we experienced Mercedes' system - in fact, the first was with the all-new Mercedes-AMG EQE sedan in France. And while the system was, at first overwhelming there, we quickly got used to it.
However, with OTA (over-the-air) updates - available on all Mercedes models now - the system got a bit of a boost. That means, the video-game-esque arrows that "appear" on the augmented reality screen in the centre console also appear in the head-up display in front of your face directing you seemingly right there on the road. It is highly distracting and really caused me as a driver to focus on nothing but those arrows. Everything else kind of faded away, and I found it disconcerting, to say the least. Everything else about the system is amazing and I love it, but that really threw me off and I would have preferred the navigation directions in the head-up sans bright blue digital arrows (that also move and change size as you drive closer or farther away from the area they are directing you towards…)
Comfort and Class
This is, of course, a 3-row SUV. That being said, the third row really is just to use in a pinch or for small children. My 5'2" frame fit quite nicely, however, all those above my height and general size found it rather unlivable and truthfully it's not meant for larger adults. But it does offer that option if needed. What's cool about entry and exit for that third row is a button located on the second-row seats that automatically brings the second and first row forward to allow the passenger to get in easily.
But what happens if someone is sitting in the front seat, you ask? As long as the passenger has their seatbelt fastened, the seat won't move. However, we discovered it will move if you're just seated there. But the system can be overridden if you simply press any of the seat adjustment buttons on the door, saving you from being smooshed up against the steering wheel or passenger MBUX screen.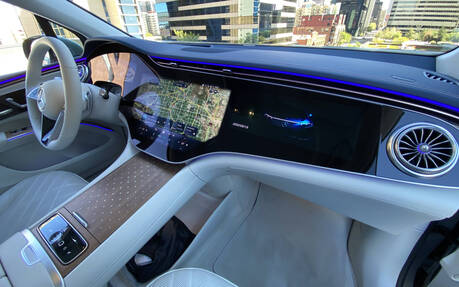 With the third row up, the cargo space is still sizable, and with it down it's downright cavernous. Of course, as is the case with the other EQ vehicles from Mercedes there is no frunk, instead, there is a high-performance HEPA filter designed to keep the cabin as pollutant-free and fresh-smelling as possible, no matter what the outside air quality is like.
From the outside, the EQS SUV is extremely handsome. While it's not overly angular or even muscular looking, there is a refined elegance about it that really catches the eye. Add that tri-star pattern front grille and the look is to die for. With a host of new paint colours that range in greys and other tones, the EQS SUV makes a solid statement on the road, even if it does so without making any noise at all.
All the Environmentally Friendly Power
Now, of course, the main questions and concerns when it comes to EVs is about power and range. Well, neither is a concern with the EQS SUV.
This gorgeous SUV comes with a 396 V lithium-ion battery that produces a peak output of the equivalent of 536 horsepower and 632 lb-ft of torque. Yes, you read that correctly. That's a huge amount of torque available in a family hauler. And with all that power and performance comes a good amount of range, too with a max of approximately 460 km on a full charge. And when it comes to charging, the EQS SUV is capable of recuperating 290 kWh during a charge. That means it's possible with a fast-charge plug to recuperate 250 km of range in just 15 minutes. That's huge, and we don't just mean the range.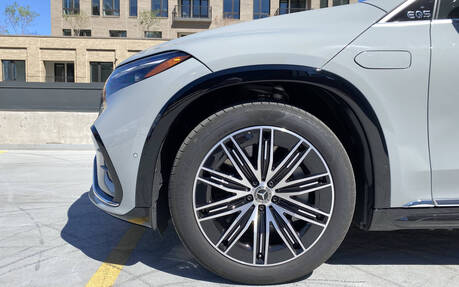 One of the laments about electric vehicles is the charge time. It's not just a quick stop at the gas station like you would do in an I.C.E. vehicle. It requires some planning for longer journeys or at the very least the installation of a fast charger at your home.
However, the EQS SUV has a stellar regenerative system, as well. Driving the steep vertical grades outside the city of Denver did very little diminish the EQS' range, and on the way back down with one-pedal driving engage (max recuperation) it gladly added to its range or at the very least kept the same and didn't waste more energy than was needed.
Oh, and if you ever had the desire to bring your EQS SUV into the deep dark woods and try some trial driving - it can do that too. Thanks to the rear-axle steering (just like the sedan) this vehicle is not only maneuverable but also highly capable with the standard 4MATIC all-wheel drive, as well. The system detects slippage and sends power to the required wheel when needed, to keep you going where you need to go. Other features include an all-around birds-eye view camera, as well as hill-decent control and the ability to raise the ride height to protect … well, to not scratch the nice, flat covering that encases the entire bottom of the SUV since it has no transmission case, etc. to worry about.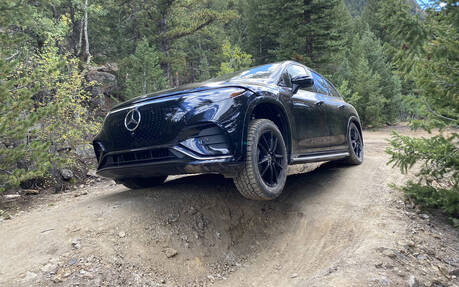 Some Serious Competition
After spending time with the EQS SUV it's clear to us that this is a new benchmark for all-electric SUVS. Mercedes has come out swinging and swinging hard. It will be tough to compete with such a well-rounded and performance-minded SUV that not only checks all the necessary luxury boxes but the range and battery ones, too. It may have taken manufacturers a little time to get to where we are now in terms of electrification and EV-powered vehicles, but oh my was it ever worth the wait.
Video: 2022 Mercedes-Benz EQS test drive
Test drive report
Test model

2023 Mercedes-Benz EQS

Trim level
580 4MATIC
Price range
$146,500
Price as tested
146 500 $
Warranty (basic)
4 years/80,000 km
Warranty (powertrain)
4 years/80,000 km
Fuel economy (city/highway/observed)
N/A
Options
N/A
Competitive models
Audi e-tron, Lucid Air, Tesla Model Y, VinFast VF 9
Strong points

All the class and style of the EQS sedan, with a third row
So. Much. Torque.
If you really want to off-road with it, you can

Weak points

You'll want all the bells and whistles which can get pricy
The head-up navigation display can be overwhelming

Editor's rating
Fuel economy
Even with all the steep hill climbs and city driving, the EQS impressed with an overall consumption of just 17kWh/100km
Comfort
From the diamond-quilted seats to the fluffy headrest pillows available in the front and back seats
Performance
Battery-powered acceleration is by far the best and so thrilling
Infotainment
We have yet to see a touchscreen system as gorgeous (and large) as the MBUX Hyper Screen.
Driving
While it feels heavy at times, it still handles well for an all-electric SUV and is well balanced during more spirited drives
Overall
This all-electric SUV from Mercedes brings an option to the market that buyers previously didn't have, and it will set a new precedent for luxury EV SUVs