2023 Subaru Outback: Part of the Family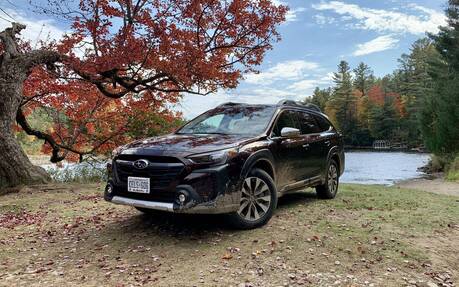 Subaru introduced the sixth-gen Outback for 2020, so a mid-cycle update is in store for the 2023 model year. Nothing major, mind you, as we discovered during a recent test drive around Muskoka, Ontario.
In fact, only a keen eye will be able to tell the refreshed Outback apart from the 2020-2022 model as the changes are quite subtle. The headlights, fog lights and front grille all sport minor revisions, while body cladding on the bumpers, wheel arches and rocker panels is more prominent now. If you like black plastics, you'll be happy.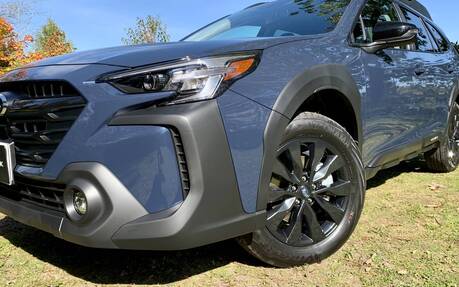 Similar to the Ascent three-row SUV, the Subaru Outback gains a new trim called Onyx for 2023. Basically, it follows the current trend of sprinkling black accents all over the vehicle, then adds 18-inch gunmetal alloy wheels and an exclusive two-tone grey interior that's easy to clean. In terms of pricing, this model starts at $38,695 and slots between the Touring ($36,995) and Limited ($40,995).
What else? Oh, there's new wide-angle mono camera that works together with the dual-camera EyeSight system to expand the field of view and recognize pedestrians and cyclists sooner when entering an intersection at low speed. We wonder how effective the system really is when the first snowflakes begin to fall.
Same Two Powerplants
What doesn't change is powertrain selection. Convenience, Touring and Limited models continue to rely on a naturally aspirated 2.5-litre four-cylinder that produces 182 horsepower and 176 pound-feet of torque. Ditto for the Onyx. Let's face it, this mill is neither very strong nor particularly sophisticated, causing the Outback to run out of breath at times. You'd better plan your passing manoeuvres accordingly.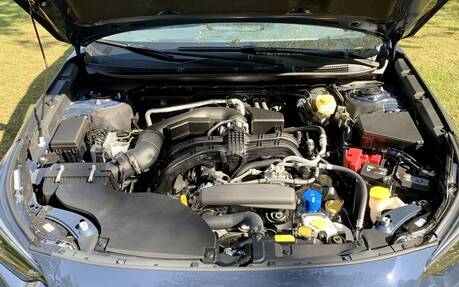 That being said, most drivers won't mind since all they want is a dependable and efficient family hauler to get from A to B. Incidentally, our tester achieved a combined 7.7 L/100 km, though we spent more time on country roads than city streets. The official rating by Natural Resources Canada is 8.2 L/100 km.
Meanwhile, the Outback Wilderness, Limited XT and Premier XT are blessed with a turbocharged 2.4-litre flat-four. Sure, we still miss the old 3.6-litre six-cylinder boxer, but the new turbo engine is quite a performer and has proven reliable so far. With 260 horsepower and 277 pound-feet on tap, it's hard to ask for more, honestly.
With this one, we drove for about 90 km and recorded an average consumption of 8.7 L/100 km—again, below the official rating of 9.1 L/100 km. By the way, Subaru has no problem with drivers using regular gasoline with either engine. As for a hybrid variant, keep waiting until the next generation arrives.
Some Off-Road Struggles
For the media event, the folks at Subaru Canada had us driving a bit off the road along Route 11 near Utterson. The ground was still soft and slippery from all the rain that came in the days prior, and as it turned out a fellow journalist in front of us got their Outback Onyx stuck despite X-Mode being set to Deep Snow/Mud. The car just wouldn't move. Amazingly, the left front wheel seemed to have no life while the other three kept spinning like crazy. 
There was no other choice but to grab a rope, tie it to the front tow hook of an Outback Wilderness and pull the hapless Onyx out of its misery, which took very little time. Luckily for Subaru, no Jeep Wrangler had to come in to save the day.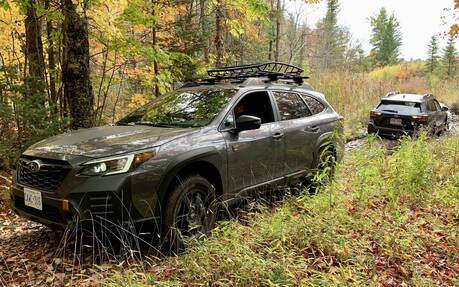 The lesson? While the Outback inspires much confidence, there's a limit to what its acclaimed symmetrical AWD system can do. When the vehicle's underbody is soaking in the mud, don't expect any miracles.
On a More Personal Note
As a fan of wagons, it's always a treat for me to drive the Subaru Outback, even more so during winter. This car is a sensible and practical purchase, and I especially enjoy the perfect driving position, not to mention the ability to haul large objects with the rear seats folded nearly flat.
The updated 2023 model is arriving in Canadian dealerships right now. While I find the Wilderness package pretty attractive, it's admittedly a bit too much for my personal needs—and also too expensive at $43,195, though there's plenty of bang to be had for one's buck. It would make more sense for me to select, say, a Touring model at $36,995.
When I returned home from the event, I once again found myself searching through various used-car listings for my dream Outback. Someday it will be mine.
The SUV Alternative
The Subaru Outback is in a class of its own, a unique alternative to more traditional SUVs and crossovers like the Toyota RAV4, Honda CR-V and Mazda CX-50. Inevitably, a hybrid variant will show up at some point, but in the meantime, we recommend this versatile Japanese wagon with no hesitation.
Watch: 2022 Subaru Outback Wilderness Review
Test drive report
Test model

2023 Subaru Outback

Trim level
Premier XT
Price range
$31,195 – $44,195
Price as tested
44 195 $
Warranty (basic)
3 years/60,000 km
Warranty (powertrain)
5 years/100,000 km
Fuel economy (city/highway/observed)
10,1 / 7,9 / N/A L/100km
Options
N/A
Competitive models
2023 Mazda CX-50, 2023 Toyota RAV4, 2023 Honda CR-V
Strong points

Generous space
Perfect driving position
Competent AWD system

Weak points

No hybrid variant
2.5L engine is a bit underpowered

Editor's rating
Fuel economy
The Outback is reasonably efficient.
Comfort
The front and rear seats are very comfortable.
Performance
While the 2.5L mill fails to impress, the 2.4L turbo delivers great performance.
Infotainment
There are better systems out there, but this one still gets the job done.
Driving
The Outback is excellent tourer with good off-road potential.
Overall
With such great selection, space and all-weather capability, it's easy to see why so many customers turn to the Outback.