This is a Dodge Challenger for People Who Can't Pick a Colour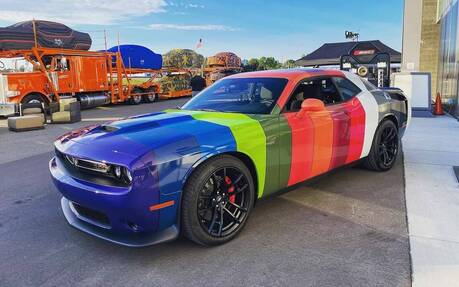 The Dodge Challenger as we know it will head into retirement after the 2023 model year, but it's far from done grabbing the spotlight. The company has already unveiled six "Last Call" special editions and a seventh will follow later this fall—though not at the SEMA Show as initially planned due to product and supply chain setbacks.
Another thing that will please Challenger customers is the selection of 14 body colours for 2023, including the return of Heritage options such as B5 Blue, Destroyer Grey and Plum Crazy. That's fantastic, but what if you can't decide on just one?
Well, Dodge has teamed up with a company called CG Detroit to offer a special wrap combining all 14 available colours. As you can see on the pictures, it's not a joke. Dodge showed the wrap on display vehicles earlier this year and many fans loved it.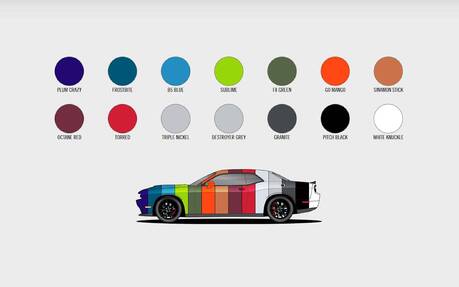 So now, the multi-coloured wrap can be ordered at a price of $3,700 USD plus installation by a 3M-certified professional. It's compatible with all Challenger trim levels, even with a Widebody kit, and not just the 2023 model—even those dating back to 2008. To be clear, there's no such thing in Canada yet, so you'll have to cross the border. And the Dodge Charger can't get it, either.
Will this eclectic Challenger make history and become a collector's car in the same way as the Volkswagen Golf Arlequin? That remains to be seen.
Personally, Go Mango is still a favourite. What about you? You can check out our photo gallery at the top of the page for inspiration.