Freddie Mercury's 1974 Rolls-Royce Silver Shadow is For Sale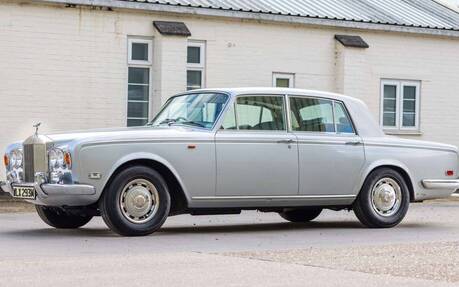 Many of you were intrigued by that 1971 Stutz Blackhawk owned by Elvis Presley we reported about earlier this month. Well, another unique automobile that once belonged to a famous singer and musician will soon be up for bid and we thought you'd like to check it out, too.
This is the late Queen frontman Freddy Mercury's 1974 Rolls-Royce Silver Shadow that RM Sotheby's will auction in London on November 5. All proceeds from the sale will go to Superhumans Center, a charity established to provide aid in Ukraine.
Just like his fellow band members, Mercury loved all things on four wheels. He owned the Rolls-Royce for more than a decade, from 1979 all the way to his death in 1991. While it's unlikely that the singer drove the car, on account of apparently never gaining a full driving licence, it's thought that the Silver Shadow was Mercury's personal chauffeur-driven transport for the duration of Queen's smash hit heyday.
Accompanying the sedan is a history file that features Mercury's name on assorted workshop invoices. Curiously, much of the paperwork on file is recorded in the name of Mary Austin, Mercury's former partner, who assisted the singer with the upkeep of the Rolls-Royce. A letter on file from Jim Beach, long-time band manager of Queen, verifies the celebrity ownership.
Kashmira Cooke, the rockstar's sister, subsequently bought the Silver Shadow from the Freddie Mercury Estate in 2003 and enjoyed it for many years until it was bought at auction by its consigning owner in 2013.
Since the car has been kept in storage for an extended period of time, there are many question marks about the condition of the powertrain, suspension, brakes, tires and other components. A 6.75-litre V8 engine producing 189 horsepower lies under the hood, er, bonnet.
RM Sotheby's estimates the Silver Shadow to be worth anywhere between £20,000-£30,000, or about $31,000-$46,000 CAD at the current exchange rate. That's not a whole lot of money, mainly because the Silver Shadow has the largest production volume of any Rolls-Royce ever. Still, the fact that it was owned by Mercury could lead to a surprise winning bid.