2023 BMW M4 CSL: 42 for Canada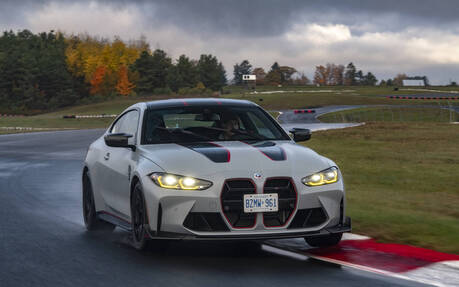 One thousand. That's how many units of the new 2023 BMW M4 CSL (Competition Sport Leicht) will be sold globally. And only 42 of those—one more than initially announced—will be allocated to the Canadian market, priced at $166,500 apiece. Since most customers will likely keep the car safely stored until it gains value, consider yourself extremely lucky if you happen to come across one—and maybe buy a lottery ticket while you're at it.
As BMW M celebrates its 50th anniversary, executives chose to revive the concept of the first M car to ever hit the market, the 1972 3.0 CSL. Following several years of development and modest racing success in the European Touring Car Championship (ETCC) with various iterations of the CS a.k.a. Batmobile (due to its full-width rear wing), the CSL was created as a homologation special.
The M4 CSL is to BMW what the 911 GT3 is to Porsche—a bridge between road cars and endurance race cars. Its Laserlight daytime running lights illuminate in yellow rather than white, evoking the look of GT racers.
Lighter Weight, Boosted Turbos
To create the 2023 BMW M4 CSL, M engineers relied on the proven formula of light weight, increased power and sharper handling. By using carbon fibre-reinforced plastic (CFRP) for body and interior components and switching to ultra-lightweight sound insulation, they saved 26 kg. Eliminating the rear seats cut another 21 kg. Chassis alterations, including the addition of standard lightweight M Carbon ceramic brakes and forged light-alloy wheels, springs and struts, reduced weight by another 20.8 kg. In the end, the M4 CSL is 100 kg lighter than the M4 Competition.
Boost pressure has been increased from 24.7 psi in the M4 Competition to 30.5 psi in the CSL, while the exhaust, cooling and lubrication systems have been revised. As a result, the twin-turbo 3.0-litre inline six-cylinder engine produces 542 horsepower and 479 pound-feet of torque. By the way, the front-end strut brace developed specifically for the M4 CSL takes the body rigidity to another level. No xDrive model is available here—this limited edition is pure rear-wheel drive bliss. On the other hand, forget about a manual gearbox—shifting is handled exclusively by BMW's eight-speed Steptronic.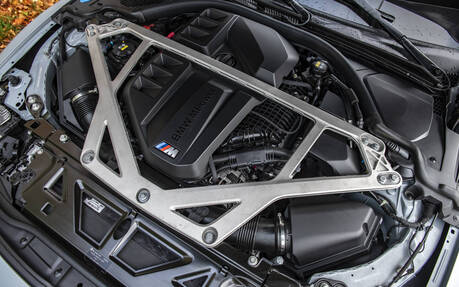 Fun Times at Mosport
BMW Canada invited us to a lapping session at the Canadian Tire Motorsports Park (Mosport) in Bowmanville, Ontario. Sadly, the track was still wet from the day before. The M4 CSL shot out of the pit lane like a cannonball and the high-revving straight-six quickly filled the cabin with a dizzying amount of decibels. There's no comparison to be made with the M4 Competition.
Steering is even more direct since the front axle's forged swivel bearing has more camber, greatly increasing the car's ability to put down power through high-speed corners. I was extremely glad to be able to get such great feel from the front wheels as the rain made it more difficult to find grip along the track.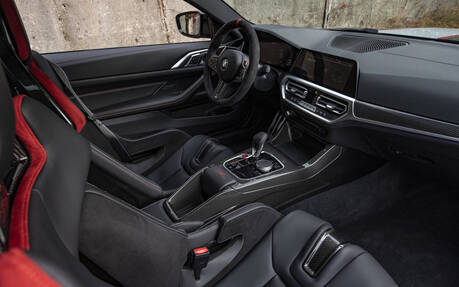 The M Carbon ceramic brakes are really powerful. So much, in fact, that it's best to set them in Comfort mode rather than Sport mode when traction is limited in order not to upset the car when braking. Incidentally, you should know that the M4 CSL's various systems can be set independently from one another. As I found out, the ideal combination on wet or semi-wet pavement is Comfort for the brakes and Sport for the chassis, steering and powertrain.
With the adaptive M suspension featuring electronically controlled dampers, the explosive coupe felt wonderfully at ease on a track like Mosport, which includes several elevation changes. Acceleration is fantastic, but you need to be careful when coming out of turn 5B to avoid oversteer. And on the not-so-straight Mario Andretti Straight, the engine let out a joyful scream as the M4 CSL rushed toward the Canadian Tire Bridge.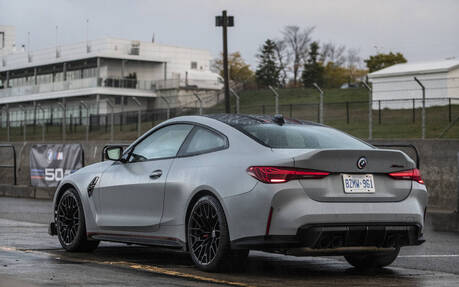 Complaints? Well, the automatic transmission is sometimes slow to react, especially when downshifting. Given the sharper, more aggressive nature of this car, it could definitely use a quicker-shifting dual-clutch unit that's better suited for track use.
The CFRP sport seats provide excellent support, while the top centre marker on the Alcantara-clad steering wheel is a nice touch. Other than that, the dashboard is very similar to that of the M4 Competition.
Bottom Line
In the end, the 2023 BMW M4 CSL is an exceptional driving machine made even more special by the super-small number of units allocated to the Canadian market, nearly all of which are already spoken for.  
Test drive report
Test model

2023 BMW 4 Series

Trim level
M4 CSL
Price range
$53,150 – $166,500
Price as tested
166 500 $
Warranty (basic)
4 years/80,000 km
Warranty (powertrain)
4 years/80,000 km
Fuel economy (city/highway/observed)
15,0 / 10,3 / N/A L/100km
Options
N/A
Competitive models
2023 Audi A5 RS 5 Coupe, 2023 Cadillac CT5 V Blackwing, 2023 Porsche 911 GT3 PDK
Strong points

The sharpest and raciest of all M4 models
Exceptional performance
Terrific handling
Highly exclusive product

Weak points

Stratospheric price
Very limited availability
Needs a better transmission
Comfort is sorely lacking

Editor's rating
Fuel economy
What did you expect? There's a price to pay for that kind of performance.
Comfort
Comfort and noise insulation are not this car's forte.
Performance
One word: spectacular.
Infotainment
The system is responsive and user-friendly. Wireless Apple CarPlay is included.
Driving
An exceptional driving machine.
Overall
Killer looks and breathtaking performance at a scary price. Too bad the automatic transmission takes some of the fun away.