Toyota Reportedly Planning Major Shift in EV Strategy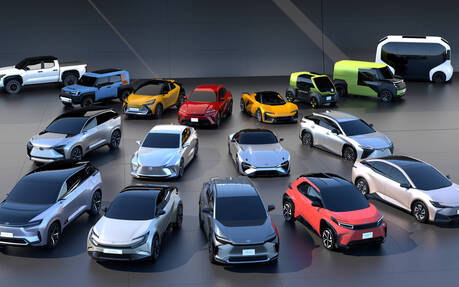 Toyota has officially unveiled the new bZ3 compact electric sedan, a model aimed at the Chinese market but likely not North America—even though it shares its platform and several components with the bZ4X crossover.
At the same time, Reuters is reporting that the Japanese automaker, which was slow to embrace electric vehicles and prefers to focus on hybrids, could be on the verge of a major shift in its EV strategy.
Four people with knowledge of the matter have told the press agency that the USD$38 billion EV rollout plan announced last December—which included a sneak peek of 16 future electric Toyota and Lexus models—could be significantly revised and even take a few pages from competitors starting with Tesla.
Toyota has tasked a dedicated working group with outlining plans by early next year for improvements to its existing EV platform or for a new architecture, the sources said. The goal is to develop a more efficient manufacturing process and reduce costs.
In the meantime, Toyota has reportedly halted work on a number of EV projects such as the lovable Compact Cruiser EV (pictured bleow) and the zero-emission variant of the Crown.
Reuters points out that this new strategy could delay the launch of Toyota's next EV models, but ultimately put the company in a much better position as global sales of EVs far exceed its earlier projections.
As mentioned up top, Toyota boasts world-class expertise in hybrid technology—notwithstanding "Cablegate," of course—not so much when it comes to full EVs. It looks like the automaker cut a few corners while engineering and producing the bZ4X, whose specs and capabilities fail to match those of many competitors. Toyota also had to recall units with wheels that could fall off shortly after launch (production was suspended for three months and only resumed recently).
Toyota is working with suppliers and considering factory innovations to bring down costs like Tesla's Giga Press, a massive casting machine that has streamlined work in Tesla plants, according to the report by Reuters. As for that advanced EV prototype with a solid-state battery we were supposed to see last year, there's still no sign of that.