Watch: Ken Block Silently Drifts Around Vegas in "Electrikhana"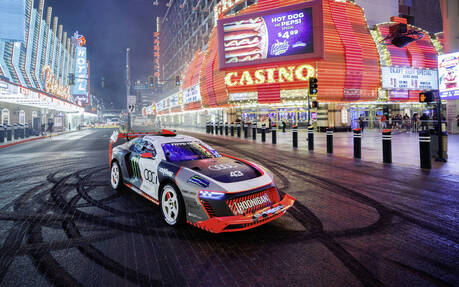 As promised, master drift artist and the star of Gymkhana movies, Ken Block, has released another spectacular installment in the series. This one is arguably more electrifying than all the previous ones since it features the fully electric Audi S1 e-tron quattro Hoonitron we covered last December.
In Electrikhana, the action takes place in Las Vegas and Block silently dances in the streets and around several landmarks of Sin City behind the wheel of a prototype that's been specially developed by the team at Audi Sport in Germany.
A drift along the famous Eiffel Tower, donuts in the lobby of a casino, a spectacular jump out of a parking garage, and endless slides on the world-famous strip in front of Le Mans legend Tom Kristensen are just some of the highlights. Obviously, the lack of a high-revving combustion engine makes the sound of the tires come alive like never before.
You may have noticed brief guest appearances by other star models from the four-ringed brand, such as the Audi 90 IMSA GTO (1989), the Audi 200 Trans Am (1988), the Audi Sport quattro S1 Pikes Peak (1987) that actually inspired this new prototype, the Audi quattro Gruppe B A2 (1984) as well as the Audi R8 LMP and Audi R18 e-tron quattro from Le Mans.
"With the S1 Hoonitron, we broke entirely new ground at Audi," said Oliver Hoffmann, Member of the Board for Technical Development at Audi AG. "Developing a fully electric prototype for the unique requirements of our partner Ken Block was a big and exciting challenge to which the whole team rose with flying colours."
The body of the S1 Hoonitron is the work of Audi Design led by Marc Lichte. It wraps around a carbon fibre chassis and houses two electric motors. Total output remains a mystery.
Watch: Ken Block Drives the Ford Focus RS