2023 Ford F-150 Raptor R: R-adical and R-emarkable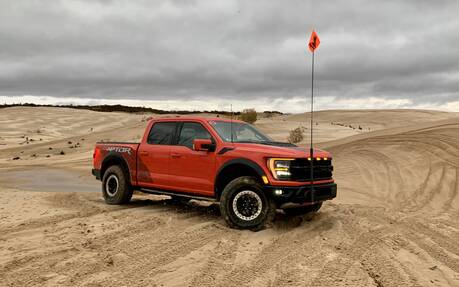 Did you know there are sand dunes in Michigan? Up until a few days ago, I didn't. But that's where Ford invited a bunch of journalists including yours truly to put the new 2023 F-150 Raptor R to the test.
Let me tell you one thing right away: it's not just a letter that separates this model from the regular Raptor.
You see, the latest-generation F-150 Raptor is just as mean and competent as its predecessors, but even with a high-output 3.5-litre EcoBoost V6, it's no match for the Ram 1500 TRX and its supercharged 6.2-litre Hellcat V8. That's why Ford came back with the F-150 Raptor R.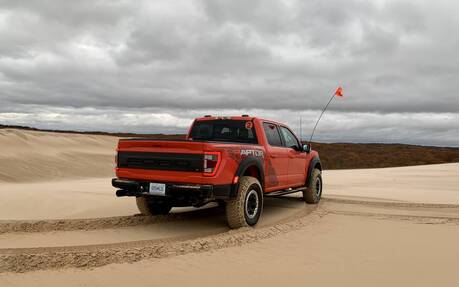 Shelby GT500 Power
The 2023 Ford F-150 Raptor delivers 450 horsepower and 510 pound-feet of torque. That's nice. But is it enough? Not when the aforementioned Ram 1500 TRX crushes the ground with 702 horsepower and 650 pound-feet. Now that's a lot of power.
So here comes the Raptor R, blessed with the same supercharged 5.2-litre V8 as the Mustang Shelby GT500. Output is rated at 700 horsepower along with 640 pound-feet of torque. Not bad, eh? Of course, these numbers still don't quite match those of the TRX, but I can assure you that no one will feel the difference behind the wheel.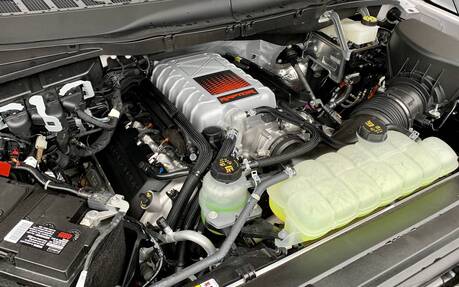 Hardcore performance enthusiasts will absolutely love this engine, which is nothing short of remarkable. Acceleration is violent and relentless as the 10-speed automatic transmission swaps gears with no power interruption. It's also quick to downshift when you floor the throttle. By the way, top speed is electronically limited at 181 km/h.
And what about the sound effects? Just fantastic. You can switch between Normal, Sport, Baja and Quiet modes any time you want. The latter is a blessing for the neighbours, while Baja mode makes the truck roar like few others can.
We drove on the highway for 67 km but spent most of the time racing through dunes and not caring one bit about saving fuel, so take our fuel consumption average of 23.5 L/100 km with a grain of salt—or sand. The official combined rating by Natural Resources Canada is 19.7 L/100 km, which is quite optimistic if you ask me. Of course, premium gasoline (91 octane) is required.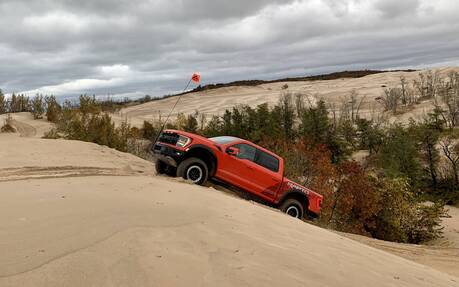 Raptor vs. Raptor R
Beyond the almighty supercharged V8, the super-rad Raptor R stands out from the EcoBoost-powered model with specially calibrated Fox shocks, a unique exhaust system, 37-inch off-road tires, orange tow hooks, as well as specific badging and graphics.
Inside, you'll find Recaro seats with a combination of black leather and Alcantara suede for added grip, orange stitching, Raptor badges, plus genuine carbon fibre on the doors, media bin door and upper parts of the instrument panel.
And then there's the price gap—a whopping $40,730 over the 2023 Ford F-150 Raptor, which starts at $102,175 before you add a delivery and destination charge of $2,095. Want the power assisted tailgate and dual glass roof? That's another $2,550. The good news is that you can remove the body graphics at no cost. There are no further options. Just an insane price for an insane truck.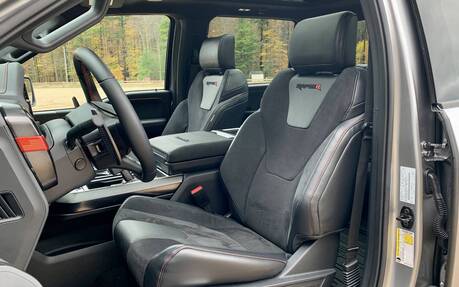 Alas, Ford refused to tell us how many units it will build and ship to Canada. My guess is that the Raptor R stands for rare. Extremely rare.
Fun Times in the Dunes
The sand dunes I referred to earlier can be found in Silver Lake State Park, Michigan. There, a lineup of F-150 Raptor R models awaited a group of over-excited journalists. Ford reps had already taken some air out of the tires so we could make the most of the beautiful playground. All we needed to do was turn on Baja mode and deactivate traction control.
While I'm used to tackling muddy trails and rocky hills with rugged SUVs, this was my first-ever experience in the sand. I quickly realized how similar it is to driving in fresh snow. It was a whole lot of fun getting acquainted with Ford's monster truck, which excels at going sideways, climbing steep grades, crossing puddles and rivers, getting airborne and leaving a cloud of dust in its wake. It won't get you any faster through traffic jams, however.
After a few hours in the dunes, one thing became clear: while dedicated off-roaders like the Jeep Wrangler and Toyota 4Runner could probably handle the slippery terrain just as well, none would be faster doing so than the Raptor R.
An Indecent Proposal That Won't Last
The auto industry is at a crossroads right now and the Ford F-150 is a perfect example. On one hand, you have the Raptor R which flies in the face of decency with a large, gas-guzzling engine. And on the other hand, there's the zero-emission F-150 Lightning. Both can be found in the same lineup and in the same showrooms.
How long will that last? Hard to say. The Raptor R is a big toy like very few others, but Ford won't be able to keep it around for many years. The F-150 Lightning, for sure, is here to stay.
Watch: Standard Ford F-150 Raptor Shows What it Can Do
Test drive report
Test model

2023 Ford F-150

Trim level
Raptor SuperCrew 4x4 (5.5')
Price range
$39,115 – $100,385
Price as tested
CA$93,925
Warranty (basic)
3 years/60,000 km
Warranty (powertrain)
5 years/100,000 km
Fuel economy (city/highway/observed)
15.8 / 13.2 / N/A L/100km
Options
N/A
Competitive models
2023 Ram 1500 TRX Crew Cab 4x4 (5.6')
Strong points

Lots of character
Impressive off-road capability
Exceptional sound effects

Weak points

Astronomical price
Outrageous fuel consumption
Likely extremely hard to get one

Editor's rating
Fuel economy
Easily one of this truck's biggest weaknesses.
Comfort
The suspension does an excellent job most of the time.
Performance
The Shelby GT500-derived V8 is massively impressive.
Infotainment
The system proves user-friendly for the most part.
Driving
The Raptor R is first and foremost a big toy.
Overall
Ford has a pretty convincing response to the Ram 1500 TRX.