Mopar Electrifies Jeep CJ, Turns Ram 1500 Into Adventurous Truck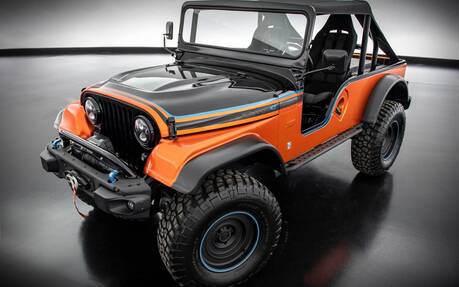 This week's SEMA Show in Las Vegas will feature the premiere of three Mopar concepts including a cool Jeep CJ electromod and a pair of Ram pickups designed for action sports and overlanding enthusiasts.
Also on hand will be many other custom-built vehicles that we saw earlier this year such as the fully electric Jeep Magneto 2.0 from the Moab Easter Jeep Safari.
Jeep CJ Surge
Let's start with the Jeep CJ Surge, which is another great example of a classic vehicle being given a new lease on life and a new personality through electrification. Mopar will use it as a test bed for a future propulsion system offering for older Jeep models.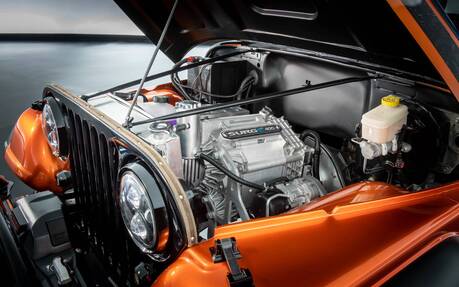 Under the hood, a scalable 400V, 200kW (268 hp) Electric Drive Module mounts to the frame with custom-designed solid motor mounts. Power to all four wheels is supplied by 24 lithium-ion battery modules and torque runs through a two-speed Jeep transfer case with selectable gearing. Vital protection for these components and more is provided by Jeep Performance Parts Rubicon skid and front-bumper plates in addition to concept JPP rock rails.
Paired with a two-inch lift kit, the 35-inch BFGoodrich all-terrain tires with 18-inch Black Rhino wheels sit under oversized fender flares, while the stunning Copper Canyon body stands out with gloss black and Surf Blue Surge graphics and bodyside striping.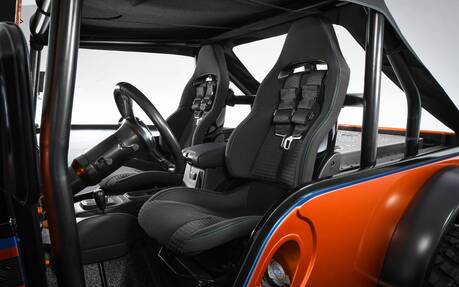 The cockpit of the CJ Surge concept is surrounded by a custom-built roll cage, while a custom-shaped bikini top offers shade and cover from the elements. Looking out from the two-inch cropped windshield, the driver and passenger are perched in custom seats installed with concept seat risers.
Ram 1500 TRX Gold Shot
Another head-turning Mopar concept designed for SEMA is the Ram 1500 TRX Gold Shot. The Satin Bitter Yellow/Satin Black body carrying massive TRX side graphics is impossible to miss, and the dual five-inch black Mopar exhaust tips will ensure everyone can hear it, too.  
This truck is a performance toy hauler for motocross enthusiasts who want to start their adventures farther and get there faster. No modifications have been made to the 702-horsepower, supercharged V8 engine, however.
With 37-inch BFGoodrich tires providing extra ground clearance, it's a good thing Mopar fitted the cargo bed with a bed step that lowers for easy access and, with a gentle push, retracts to a stored, out-of-the way position. Behind the cab, a RamBar accessory bar features a pair of concept 14-inch TYRI rectangular LED lights for longer days out in the trails.
Ram 1500 Backcountry X
As the name implies, the Ram 1500 Backcountry X concept is designed for backcountry trips. Valuable storage space is expanded by more than 68 percent with the custom RamPack system, which adds a closed shelf on top of the standard RamBox. It opens via a single, carbon-fibre, hatch-type panel and there are tie-down loops for secure mounting.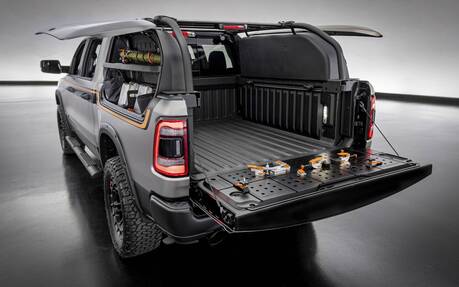 Elsewhere, the RamRack uses additional Thule cross rails above the bed for mounting gear and accessories. On the inside panel of the tailgate, a custom Mopar RamGate task-bench insert features various conversion charts and an angle finder coupled with an array of Rockler woodworking hardware. 
Venturing away from the beaten path is no problem with the 37-inch BFGoodrich tires and two-inch lift kit featuring FOX shocks. Up front, the Mopar tubular grille guard has four Mopar five-inch LED off-road lights to provide significantly enhanced forward lighting. Oh, one more thing : there's a concept RamVac on-board vacuum under the second-row bench seat that makes it easy to clean the cabin after coming back from the trail or the worksite.