VW Jetta GLI Performance Hits SEMA With Widebody Kit, 350 Hp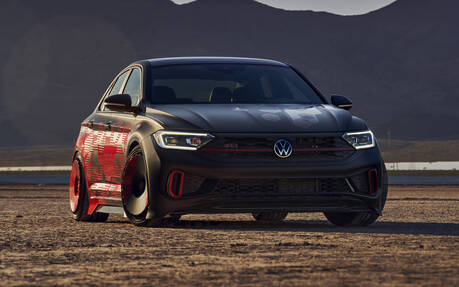 Volkswagen is serious about increasing its presence and appealing to more customers in North America. This week's SEMA Show in Las Vegas certainly serves as evidence. Among the many concepts and custom builds prepared for the event is a stunning Jetta GLI Performance.
"The Jetta GLI concept was an opportunity for our team to draw from our passion for motorsports and create a vision that is even more expressive and exciting than the production vehicle already is," said Reto Brun, Senior Director at Volkswagen's Design Centre in California,
The front and rear fenders are 2 cm wider and incorporate custom air vents. They combine with more prominent side skirts for a widebody look. Of course, the front grille and the bumpers are redesigned, the one in the rear highlighted by two large exhaust tips.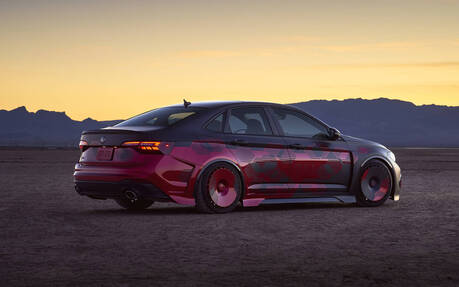 We absolutely love the unique, hexagon-themed matte black vinyl wrap that transitions to the car's factory shade of Kings Red Metallic paint and adds geometric patterns in the process. The matching 20-inch Rotiform Aerodisc wheels are the cherry on top—well, you know what we mean.
Under the hood, VW partnered with RacingLine to boost the turbocharged 2.0-litre engine to 350 horsepower and 372 pound-feet of torque. Remember, the standard Jetta GLI is rated at 228 horsepower and 258 pound-feet. An R600 Carbon Fiber Cold-Air Intake and Performance Intercooler deliver the necessary flow of cool air, while an oil management kit and oil cooler aid with thermal management of the motor's oil. Power is delivered to the front wheels via the factory six-speed manual transmission mated to an upgraded performance clutch package.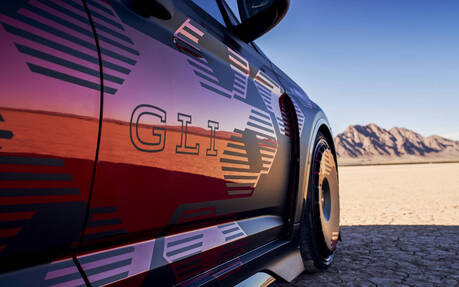 Countering the extra power is a six-piston forged caliper big brake kit with 15-inch carbon-ceramic discs. A TrackSport coil-over suspension kit and additional underbody braces are part of the mix, too, which sounds pretty nice.
Last but not least, new Recaro Pole Position ABE sport seats will keep the driver's hips and shoulders in check during hard cornering. They feature custom 'Texagon' upholstery that continues the exterior theme.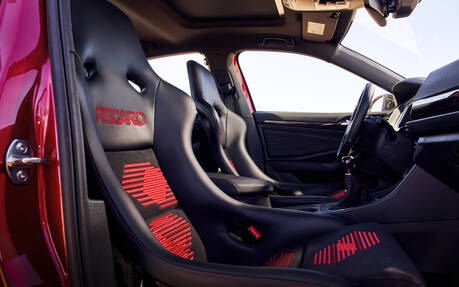 In addition to the Jetta GLI Performance, Volkswagen's booth at the 2022 SEMA Show includes Taos and Atlas concepts for camping and overlanding enthusiasts, a unique ID.4 with a drone landing pad on top, another one that makes use of multiple accessories designed for outdoor fun, a specially accessorized Golf GTI with a matching roof box, as well as a 2004 Golf R32 standing next to the latest-generation Golf R. You'll find them all in the photo gallery at the top of the page.