2023 Toyota GR Corolla: GRinning from Ear To Ear
Aside from delivering astounding amounts of bottom-end torque, modern electric cars still seem to be pushing performance, tuning and just plain enjoyment at the wheel to the sidelines. But some brands still insist on charming driving enthusiasts despite the fact that their financial stability relies highly on SUVs and the success of their electrification plans. Toyota is one of them.
Yes, the brand is somewhat of a paradox. The "safe" reputation it is known for and represented by Camrys and Corollas has been blending quite well with its rich motorsport history.
And its through Gazoo Racing (GR) badged vehicles that it intends on keeping this mix alive. While the Gazoo moniker doesn't "sound" as glamorous as Mercedes-Benz's AMG, BMW's M or even Hyundai's N, the GR Supra and the affordable but super fun GR 86 have so far shown us some cool tricks on North American soil.
Enter the GR Corolla, a compact that is inspired by the notorious but smaller GR Yaris already tearing the streets in Europe, but bigger because, well, America!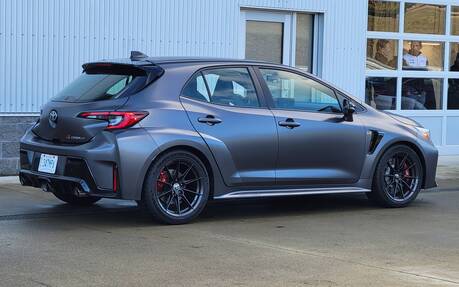 A Corolla with Spice on its Price
The 2023 GR Corolla is powered by a 3-cylinder, 1.6-litre turbocharged engine with an output of 300 horsepower and 273 lb-ft of torque. It is available exclusively with a 6-speed manual gearbox, which makes it a unicorn in 2023. The lineup breaks down in three grades. And as you may probably have guessed, the pricing structure is spicier than that of the regular Corolla lineup. The base Core model is fitted with standard limited slip differentials in the front and in the rear for the Canadian market. It has a starting price of $45,490. The next model is the Circuit Edition, which adds a carbon fibre roof and other add-ons. This one starts at $53,990.
The third grade is a very exclusive one: the Morizo. Production will be limited to 200 units, with only 10 making their way to Canada. At a price of $59,990, owners of the Morizo variant get a recalibrated ECU that injects 22 lb-ft of torque in the already solicited 3-cylinder mill, a 6-speed manual tranny with closer rations and unique seats. It also lost quite a few pounds when compared to the other trims.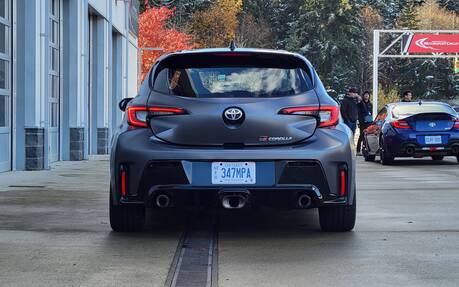 Highly Tossable Road Toy
Inside, the GR Corolla's seating provides particularly comforting support with an almost perfect driving position - if it wasn't for the pedals that seem to be a little bit out of reach. The steering wheel is perfect sized (small) and provides ample feedback. You'll notice that the interior is devoid of anything premium in terms of finish – except for the special stitching and badging, you're dealing with the usual Corolla fare. But considering rivals like the Golf R have all moved to plastic interiors with screens, it's within the unfortunate industry standards.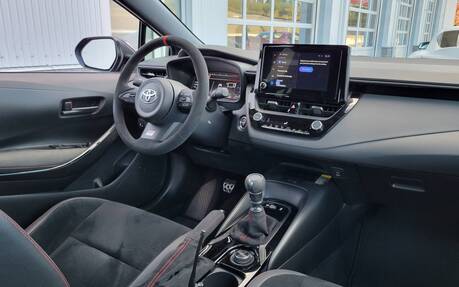 Speaking of the screen, the simplistic infotainment system from Toyota has gained maturity over time in terms of navigation, but is its interface is still a bit confusing. The fully digital instrument cluster behind the steering wheel is super useful, displaying an array of metrics like boost and temps, while keeping the analogue style that we like.
On the road, the GR Corolla is a riot to toss around. Its structure features 349 more welds than the normal Corolla in order to boost rigidity. Paired with additional bracing, MacPherson double-wishbone suspension in the front and multi-link unit in the back, the GR Corolla is ready for action.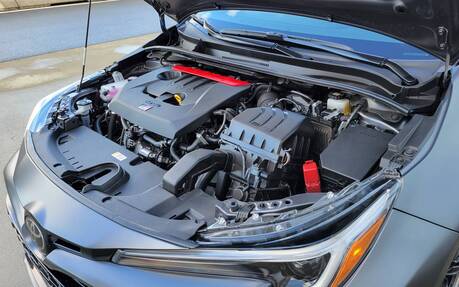 While its exhaust system isn't particularly loud and refrains from popping, the GR Corolla delivers ample bottom-end torque after the 3,000 rpm line. Yes, there's a tiny bit of lag there, but producing 25.2 psi through the small turbocharger and cram it back into the intake manifold is a tall order for the small displacement.
The manual 6-speed gearbox is gratifying to handle, but the most fun part is even on poorly or non-paved roads, the GR Corolla delivers a rally-like experience with high predictability. Braking is also efficient thanks to 4-piston calipers paired with ventilated and slotted rotors in the front and 2-piston calipers with ventilated rotors in the rear.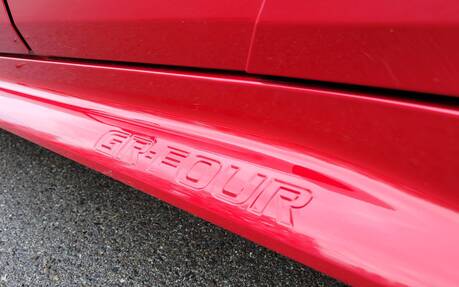 The feature that we fell in love with is the GR-Four all-wheel drive system's ability to adjust the torque distribution from 60/40 front/rear in normal driving to 30/70 for a spicier experience or 50/50 for the pro stuff – all at the twist of a knob.
Holy Morizo!
Morizo is Akio Toyoda's racing name. While Toyoda's is the manufacturer's head honcho, he also gets his hands dirty by actively testing and racing factory race cars and road cars. This edition gets 295 lb-ft of torque (instead of 273 lb-ft) thanks to a revised tune that squeezes 26.3 psi from the existing turbocharger. It has no rear seating; hence the rear doors have been gutted and are devoid of window switches and related hardware. You won't see a rear window wiper, nor heated seats in the front. All this, and more takes out 45 kilograms when compared to the Circuit Edition model.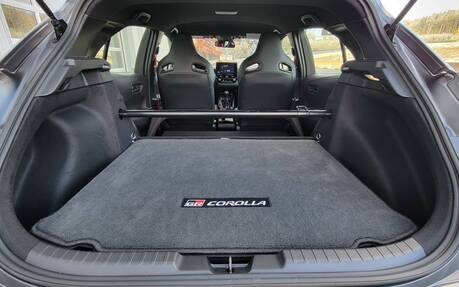 Yes, the Morizo is rougher around the edges. It doesn't seem to have the same insulation priorities and delivers a bumpier ride. But that's all because race car, literally. The Morizo feels much lighter and more agile. And believe it or not, the 22 lb-ft of torque is felt in a big way in the bottom, giving it more response than the regular GR and complementing the competition experience.
Veloster N, Golf R, Civic Type R, Corolla GR… they are all part of the last chance gas-powered manual fun boxes club. And although we can question the long-term reliability of the highly solicited 3-cylinder powerplant, there is no doubt that the GR Corolla is made for those who love to drive spiritedly. And if you think the price is "steep for a Corolla", think again, and see what the prices are for a 300 horsepower, all-wheel-drive car.
Grab one while you can!
Listen - The Car Guide Podcast EP4: 2023 Toyota GR Corolla Test Drive
Test drive report
Test model

2023 Toyota Corolla

Trim level
GR Morizo Edition
Price range
$21,250 – $59,990
Price as tested
CA$59,990
Warranty (basic)
3 years/60,000 km
Warranty (powertrain)
5 years/100,000 km
Fuel economy (city/highway/observed)
11.2 / 8.4 / N/A L/100km
Options
N/A
Competitive models
Honda Civic, Hyundai Elantra, Kia Forte, Mazda Mazda3, Nissan Sentra, Subaru Impreza, Toyota Prius, Volkswagen Jetta
Strong points

Super fun to drive
Adaptable AWD system
Copious amounts of power for displacement

Weak points

Unproven three-cylinder engine long term reliability
Limited availability

Editor's rating
Fuel economy
N/A Not evaluated
Comfort
Although the rear seating is a bit tight and the pedals are positioned far from the driver, the front seats offer plenty of support
Performance
Small lag at very low rpm, but the beast is unleashed soon after
Infotainment
Toyota's infotainment system is better, but not quite there yet
Driving
This one deserves a trophy and a podium for the enjoyment it provides
Overall
The GR Corolla is a rare breed and will cater to your driving enthusiast needs. All year!