2023 Kia Niro: Highly Efficient With Decent Range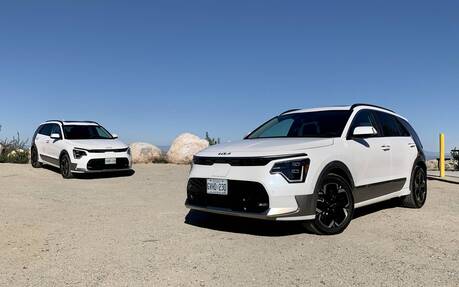 Some people predicted that the Kia Niro would just come and go, but the company sure believes in it, having introduced a second generation for the 2023 model year.
The Car Guide headed to San Diego, California a couple of days ago for a first test drive of this small crossover, which continues to stand out from the competition by offering hybrid, plug-in hybrid and fully electric variants. Sadly, we were denied access to the Niro PHEV for some reason. Oh well, here's what we can tell you.
More Assertive Look
With the Niro, Rio, Forte5, Soul and Seltos, Kia definitely has its hands full when it comes to small vehicles with a rear hatch. You'd think a few of them could be dropped in order to prevent cannibalization, but lo and behold, the Niro is still around.
This crossover is both unique and hard to pigeonhole. You could say it lacks a clear identity. Practical yet uninspiring, the first generation was not designed to make people fall in love at first sight. The Niro is neither a wagon nor a conventional hatchback. In the case of the EV variant, competitors include the Kona Electric, Soul EV and Chevrolet Bolt EV/Bolt EUV.
With the 2023 redesign, however, Kia's latest design language, called "Opposites United," gives the Niro a more assertive look. A highlight of the exterior is the vertical body panel in a contrasting finish behind the rear doors, complete with thin, boomerang-shaped taillights. It's not unlike the side blades on the Audi R8, though the latter are much better executed if you ask us.
The next-gen Niro is 65 mm longer—with 20 mm of extra wheelbase—and 20 mm wider than its predecessor. Depending on the model, there are subtle changes in the front-end treatment, as well as a selection of three wheel designs.
Three Shades of Green
As mentioned earlier, the Niro lineup starts with a regular hybrid variant that combines a 1.6-litre gasoline engine with an electric motor and 1.32kWh battery. Total system output is 139 horsepower and 195 lb-ft. of torque—not what you'd call a powerhouse. As a result, passing manoeuvres on the highway can be a struggle.
On the bright side, official fuel consumption is an impressive 4.8 L/100 km, though that number is actually up by two tenths from the previous model. The Niro remains one of the most efficient vehicles in the entire industry. At the end of our 172-km trip around San Diego, in perfect weather conditions, we recorded an average of 5.3 L/100 km.
Next up is the Niro PHEV. Curiously, the folks at Kia don't seem to be too excited to talk about it, instead preferring to focus on the hybrid and fully electric variants. Once again, a 1.6-litre engine teams up with an electric motor, but there's a larger high-voltage battery with a capacity of 11.1 kWh. Output is increased to 180 horsepower, with the same amount of torque. For 2023, zero-emission range is improved to 55 km (versus 42 km), which is nice. Too bad we couldn't take this one for a spin.
By the way, both the Niro and Niro PHEV feature a six-speed dual-clutch transmission when pretty much every other competitor uses a continuously variable transmission.
Finally, there's the Niro EV, whose second generation is expected to account for 70 percent of Niro sales. It used to be overshadowed by the Kona Electric and Soul EV, but now with a 64.8kWh battery providing up to 407 km of range instead of 383 km with a 64kWh pack, customers are going to take a closer look at it. And get this: our tester achieved 13.5 kWh/100 km—remarkably efficient performance by any EV standards.
While the Niro EV continues to deliver 201 horsepower, peak torque is reduced to 188 lb-ft. (a drop of 35 percent), which is extremely disappointing. And just like the other two variants, power is always sent to the front wheels only. There is no AWD option.
Overall, the 2023 Kia Niro is practical but not particularly fun to drive, though it delivers decent range in EV guise and high fuel economy in hybrid configuration.
More Modern Interior
The redesigned cabin is great except for one major irritant, which is also found in a few other Kia vehicles: you can't access HVAC controls and multimedia controls at the same time. Indeed, the touch-sensitive panel can only display one or the other, so you constantly have to go back and forth while driving, which is really distracting.
The interior layout is pretty similar across the lineup. However, you'll find a conventional shifter in the standard Niro whereas the PHEV and EV siblings feature a rotary shifter. There's a digital instrument cluster in front of the steering wheel and a 10.5-inch infotainment touchscreen in the middle of the dashboard.
We're pleased to report that cargo capacity is still excellent for such a small crossover. With the rear seats up, the trunk can fit up to 646 litres, or 8 litres more than previously. It's a shame that those seats don't fold completely flat, however.
Priced From $29,995
Starting just under $30,000, the 2023 Kia Niro is attractively priced at a time when just about all consumer goods including vehicles are getting more and more expensive. Of course, that's for the base LX model. Prepare to pay $36,895 for a top-line Niro SX. Add another $1,100 for the Niro PHEV, which is only available in a single trim level for 2023.
The coveted Niro EV, meanwhile, retails from $44,995. Again, this is a reasonable amount of money, though we'd recommend spending an extra $3,000 to get the Premium+ model, which comes with a range-extending heat pump, among other upgrades. You'll still be entitled to a $5,000 EV rebate from the federal government, not to mention provincial incentives where applicable.
Our Verdict
Just like the original, the second-generation Kia Niro proves a compelling and convenient alternative for a lot of people. While the star in the family is unquestionably the Niro EV, you'll make a great purchase if you select the equally relevant hybrid or PHEV variant instead. After all, not everyone is ready to go all-electric just yet—and Kia knows it.
Test drive report
Test model

N/A

Trim level
EV SX
Price range
$29,995 – $55,000
Price as tested
N/A
Warranty (basic)
5 years/100,000 km
Warranty (powertrain)
5 years/100,000 km
Fuel economy (city/highway/observed)
N/A
Options
N/A
Competitive models
N/A
Strong points

Improved EV range
Compelling base price (hybrid)
More assertive look

Weak points

Just one PHEV model
Availability might be a problem

Editor's rating
Fuel economy
The Niro is highly efficient.
Comfort
As a city-oriented crossover, the Niro is not designed for long-distance comfort.
Performance
Performance is pretty decent given the vehicle's size and aspirations.
Infotainment
The infotainment system is generally intuitive to use. Going back and forth between HVAC and multimedia controls is annoying.
Driving
The Niro is not particularly fun or inspiring to drive, but that's not what it's about.
Overall
Each of the three electrified powertrains is relevant. A convincing product overall.