Mazda to Offer Nine Electrified Models in Canada by 2025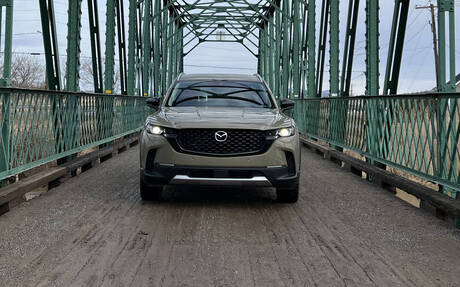 Mazda's electrification plan is getting clearer. We now have more details specific to the Canadian market following the announcement made in June of 2021.
For starters, the MX-30 electric crossover, which is currently sold in Quebec and B.C. only, will be available to customers across the country next year. However, we don't have any more information at this time about the launch of a range-extending variant equipped with a gasoline engine.
Also in 2023, the upcoming three-row CX-90 and two-row CX-70 will arrive with an optional plug-in hybrid powertrain, as we discussed recently. Our colleague Antoine Joubert was impressed after putting it to the test in the CX-60 PHEV that's already sold over in Europe. Look for unprecedented levels of power and performance along with decent EV range.
The company says that two "core crossover models" will include 48V mild hybrid powertrains for increased efficiency, though it failed to specify which ones.
In 2024, a Mazda CX-50 Hybrid will hit the market. Built at a joint Mazda-Toyota assembly plant in Alabama, it will borrow Toyota technology as Mazda executives confirmed in a November 2020 presentation. Hopefully those "Cablegate" issues will be ancient memory by then.
A year later, a new battery-electric SUV as well as four new hybrids will be launched. Alas, their identity remains a mystery for now. If you do the math, that makes it nine electrified Mazda models in Canada by 2025.
What next? Well, in the second half of the decade, Mazda will introduce a dedicated new platform for electric vehicles, called SKYACTIV EV Scalable Architecture. This highly flexible platform will underpin EV models of various sizes and body types.
Mazda's "Multi-Solution Approach," which also includes optimizing internal combustion engine technology to continually make it more fuel-efficient, aims to meet the needs of more drivers. In other words, the company doesn't want to put all its eggs in the EV basket.
In the longer term, the plan is to electrify the entire Mazda lineup by 2030 and work to achieve carbon neutrality by 2050.
Watch: 2022 Mazda MX-30 GT Review