Chevrolet Unveils Muscle Car-Like Electric Sedan Concept in China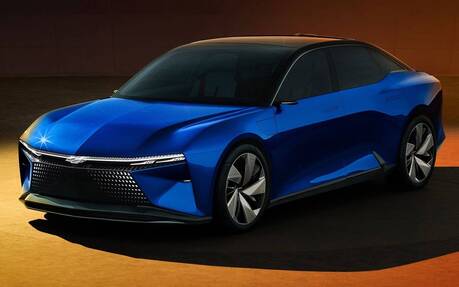 Chevrolet may be preparing to launch electric trucks and SUVs such as the Silverado EV, Blazer EV and Equinox EV, but some people are wondering if we'll ever get traditional passenger cars beyond the Bolt EV.
The answer is yes. The silhouette of an electric sports coupe that looked an awful lot like the Camaro was spotted in a video presentation by General Motors in March 2020. And last April, GM president Mark Reuss confirmed that hybrid and fully electric variants of the Corvette are coming, the latter due sometime in 2024 at the earliest.
Will there also be a sedan or something like that to replace the Malibu when it bows out before the middle of the decade? Possibly, even though few people care about sedans these days. And what could it look like? We now have some clues thanks to an interesting concept that was unveiled this week at GM's Tech Day in Shanghai, China.
Called FNR-XE (whatever that means), the vehicle was specifically designed with the Chinese market in mind. In that country, GM plans to launch more than 15 electric models by 2025, one of which will be a sedan based on this concept and riding on the automaker's Ultium platform and battery.
The black roof and pillars put extra emphasis on the sharply sculpted body. Up front, the super-thin headlights are connected by a light strip, with a transparent bow-tie emblem in the middle. The company says the low, horizontal body combined with athletic fenders in the rear are a tribute to iconic American muscle cars.
Aerodynamics were obviously a key part of the design process, as evidenced by the cameras replacing the side mirrors, while the full-length glass roof meets with the windshield and rear window to create a luminous interior—something muscle cars are definitely not known for.
Unfortunately, there are no pictures of the cabin. We don't have specs or technical details, either. But as Chevrolet's first step toward introducing an electric sedan that could challenge the Tesla Model 3 and Hyundai IONIQ 6, we sure are intrigued. Please make it come to North America.