BMW Revives Legendary 3.0 CSL With 552 Horsepower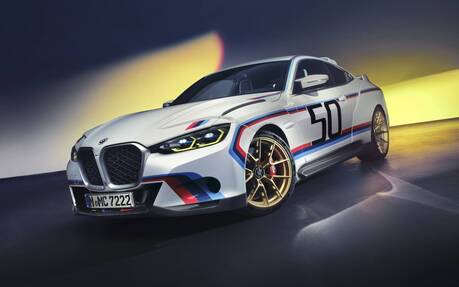 The BMW 3.0 CSL (Competition Sport Lightweight) from the 1970s is an automotive legend and a key piece of the German automaker's rich history. A tribute in the form of a concept was introduced in 2015, but the result wasn't exactly a success especially with that garish yellow body.  
Hot on the heels of the 543-horsepower M4 CSL coupe, which is limited to 1,000 units worldwide including 42 in Canada, BMW is wrapping up the 50th anniversary of its M division on a high note with a new 3.0 CSL that will have just 50 units mostly built by hand at the Dingolfing plant. Each one of them will be consecutively numbered, of course.
Based on the M4 CSL (not the four-door M3), the car houses a twin-turbocharged 3.0-litre six-cylinder engine that reaches new levels of power—552 hp to be exact—but drops peak torque to 406 lb-ft. All of this is sent to the rear wheels exclusively.
Why the lower torque figure? Because the 3.0 CSL comes with the six-speed manual gearbox, that's why. A shift assistant uses a connection speed control to ensure slip-free clutch engagement after downshifting, but it can be deactivated by drivers who want more control over acceleration.
An adaptive M suspension and M carbon-ceramic brakes are also included, the latter featuring six-piston callipers and 400mm discs up front. You can clearly see them behind the centre-locking, light-alloy wheels in a gold finish that measure 20 inches in the front and 21 inches in the rear. The Michelin Pilot Sport 4 S tires were specifically developed for the 3.0 CSL with the number "50" embossed on the sidewalls.
As far as the exterior design is concerned, BMW's new oversized grille adopts more reasonable proportions here. We definitely like it more this way. The Alpine White body, racing stripes in signature M colours and large rear wing all reflect the original car, which earned the nickname "Batmobile."
There's a secondary spoiler at the back end of the roof, and virtually all the body panels—including the uniquely flared fenders—are made of carbon fibre. In the rear, four large tailpipes grab most of the attention.
Carbon fibre is also used extensively inside, namely for the seats, door panels, dashboard and centre console. Alcantara wraps many other surfaces. The gearshift knob made exclusively for the 3.0 CSL is reminiscent of the beginnings of BMW M in the 1970s with its white surface and engraved gearshift diagram. Meanwhile, the rear seats are replaced by a storage compartment for two full-face racing helmets.
Pricing and regional availability for the new BMW 3.0 CSL have yet to be announced. Here's hoping the lucky owners will have fun with it on the track and not simply keep it in their collection.