Volkswagen Admits New Infotainment System Needs Fixing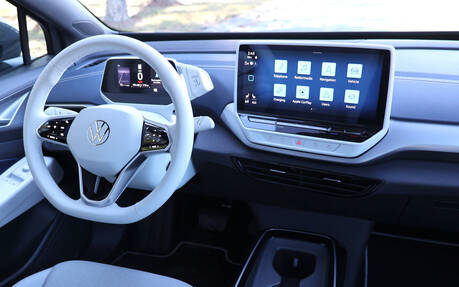 Confusion, slow response, lack of physical buttons—there's no shortage of criticism about Volkswagen's new infotainment system and interface, which can be found in the latest Golf GTI and Golf R as well as the fully electric ID.4 crossover.
After taking over as CEO this summer, Thomas Schäfer stopped by the Los Angeles Auto Show earlier this month and admitted that mistakes were made, but also promised that changes are coming soon.
"In this rush to create these vehicles to be quick off the mark and so on, the team had come up with different ideas" (that didn't always work), he told the press as  reported by Car magazine. "We know what we need to do. We've got feedback from customers, we've got feedback from clinics and from journalists. They say, 'You know this is not good. You've got to improve this'."
First, new software (version 3.0) will be available through OTA updates as early as this winter for vehicles that are currently on the road. Future vehicles will have it as they roll off the line. Schäfer talked about "a tremendous step up" but failed to get into specifics.
Redesigned components and hardware changes will come within 18-24 months. According to the CEO, the next-gen Tiguan will be the start, with physical buttons returning to steering wheels and the slider functions below the screen getting illuminated, for instance.
The infotainment system itself will be "a lot faster, with more features," he promised, adding that over-the-air updates will be rolled out more quickly to fix problems. Also, there will be more logic to how the various functions and menus are arranged.
Schäfer went on to explain that engineers and programmers are not the only ones working to fix the system and interface right now. Volkswagen is getting random customers and board members involved in the digital development process, using feedback from everybody.
As our colleague Antoine Joubert found out during a test drive of the ID.4 this fall, the new U.S.-built units appear to have not only improved build quality but also a faster-responding infotainment system. Check out his full review for more details.