De Tomaso P900 Unveiled as Track-Only Hypercar for the Wealthy Few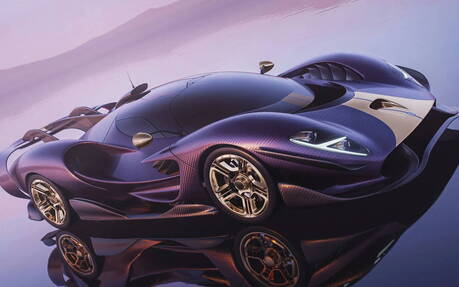 Another week goes by and another exotic sports car pops up. This time, it's the P900 by Italian automaker De Tomaso, now owned by Chinese group Ideal Team Ventures.
Styling is unmistakable as an evolution of the road-going P72 introduced in 2019. The P900 is a track-only machine, mind you, and production will be limited to just 18 units globally.
Both the chassis and the body panels around it are made of carbon fibre, unsurprisingly. Only the headlights and glass cockpit are shared with the P72 as De Tomaso claims most of the bodywork is new, featuring even more extreme details and aero components. The front splitter has larger fins, the hood scoop is redesigned and the front fenders are more prominent.
Of course, the main differences can be found in the rear, from the roof-mounted intake to the giant wing that connects with the vented engine cover through a long spine. The rear fenders and intakes are larger, while the taillights have a gold-finish ring similar to the tailpipes positioned above the massive diffuser.
There are no pictures of the interior, but since the P900 is not intended for road use we assume a lot of stuff has been stripped and proper race seats with harnesses are included.
V12 or V10
Electric hypercars are ready to take over the segment, but ICE-powered models won't go out without a fight. We told you last week about a new Czech rocket called Praga Bohema featuring a modified Nissan GT-R engine. De Tomaso's P900 will use a naturally aspirated V12 from German engineering firm Capricorn. It's said to weigh just 220 kilos (the car itself tips the scales at 900 kilos).
As 12-cylinder marvels go, this one is capable of revving up to 12,300 rpm and sending 888 horsepower to the rear wheels via an Xtrac sequential gearbox. The company says it will be compatible with synthetic fuels in the future.
Because development of the V12 will continue in 2023 and even 2024, customers who don't want to wait that long can choose to have an F1-derived V10 engine instead. Output is not specified but will inevitably be lower than that of the V12. We expect the sound to be almost as glorious, however.
Further details will be available when the De Tomaso P900 makes its first public appearance next summer. We can already tell you that each of the 18 units will sell for at least $3 million USD, or just over $4 million CAD at the current exchange rate. Customers will receive special training and support to maximize the potential of their car on the track.