New Performance Pack Boosts Audi RS 6 Avant, RS 7 to 621 Horsepower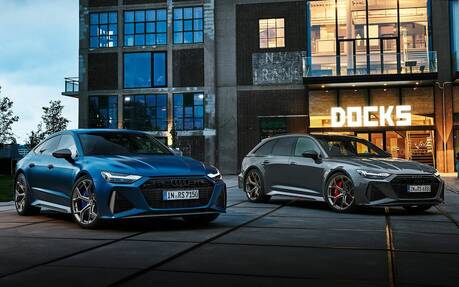 If you thought Audi was going to let its fearsome RS 6 Avant and RS 7 continue forward without any upgrades, you're wrong. The company today announced that both models will be available in a new Performance trim.
The highlight here is increased power from the twin-turbocharged 4.0-litre V8 engine. As if 591 horsepower wasn't enough, the package boosts output to 621 horsepower—more than the V10-powered R8 (602 hp) and nearly on par with the fully electric RS e-tron GT (637 hp with Overboost). Peak torque goes up from 590 lb-ft. to 627 lb-ft.
Engineers use larger turbochargers, but that's just the start. They also reduce weight by 18 pounds, including the removal of some of the sound-deadening material (which also lets more engine noise into the cabin).
Audi claims 0-100 km/h acceleration is two tenths of a second quicker with the Performance models. The Car Guide's Marc Lachapelle recently managed a sprint in 3.8 seconds with a standard RS 6 Avant.
The new package also includes 22-inch wheels and 285mm wide Continental Sport Contact 7 tires offering better grip. The centre differential is revised along with programming for the various drive modes, including the driver-configurable RS1 and RS2 modes.
Naturally, other changes provide visual reminders that these are no ordinary RS cars. Matte-finish accents and matte body colour options are part of the package, as well. We're big fans of the Ascari Blue RS 7 pictured here. Inside, blue seatbelts and contrast stitching along with other blue touches spice up the cabin.
The Audi RS 6 Avant Performance and RS 7 Performance go on sale in Europe on December 8 and will land in North America sometime next year, likely as 2024 models. Availability and pricing for Canada remain to be confirmed. The 2023 editions start at $126,500 and $131,700, respectively.
Watch: Gabriel Gélinas Drives the Audi RS 6 Avant