Watch: Travis Pastrana's "Gymkhana 2022" Really is the Wildest Ever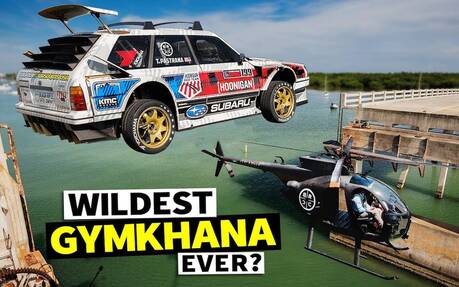 At last, we finally get to see Travis Pastrana's insane 1983 Subaru GL Wagon in action with the release today of "Gymkhana 2022," the latest and most spectacular video in the franchise that made drift master Ken Block a YouTube star.
While the latter is now having sideways fun with an all-electric Audi, his good buddy Pastrana just beat the heck out of his Japanese wagon dubbed "Family Huckster," which matches the 862 horsepower delivered by the modified WRX STI he drove in "Gymkhana 2020."
Pastrana took Florida by storm as if people down there hadn't had enough of Hurricane Ian this past summer. Here's how the madness unfolded: 
More than a drifting bonanza, these 10 minutes are filled with unreal stunts, none bigger than that high-speed jump over a bridge. And remember that Pastrana broke his back in January while filming the opening scene where he base jumped out of a building.
"'Gymkhana 2022' is the wildest film I have done on four wheels. Period," Pastrana said. "I never thought I'd race a fighter jet, do donuts around a Monster Truck doing nose wheelies, skim 100 feet across a six-foot-deep pond, or tandem slide with a helicopter. Definitely not in the same video. But here we are, with 'Gymkhana 2022!'"
The video also features the twin-turbocharged Chevrolet El Camino dragster from YouTuber, car builder and race car driver Cleetus McFarland, as well as the new Subaru WRX. In the closing shots, Pastrana gets the latter all dirty and even goes motocross style with it.
Man, what will we see next?
Watch: All-New Subaru WRX Makes Official Debut