2024 Ford Mustang's Power, Torque Finally Confirmed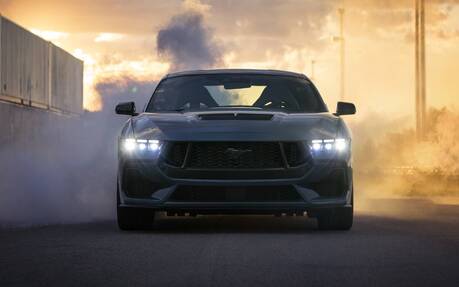 The new, seventh-generation 2024 Ford Mustang will go on sale next summer and the all-important power and torque figures that were missing at the car's September reveal are finally out.
Let's start with the base Mustang EcoBoost, whose turbocharged 2.3-litre four-cylinder engine has been extensively redesigned to incorporate Ford's new Modular Power Cylinder (MPC) engine architecture and a new bore-to-stroke ratio. Peak torque remains at 350 lb-ft., but output is increased to 315 hp (+5 hp) when using premium gasoline.
Still no word about the High Performance Package, which pushed the Mustang EcoBoost to 330 hp, but we can tell you that an active-valve performance exhaust system is available for better sound effects. Ford is also claiming improved fuel economy, but the official ratings are still several months away.
All Hail the V8 
Of course, the star in the Mustang lineup will always be the 5.0-litre Coyote V8. Now entering its fourth generation, this naturally aspirated wonder gets a segment-first, dual-intake and dual-throttle body induction system that's matched with structural improvements and upgraded oil pan.
Instead of 450 hp (GT) or 470 hp (Mach 1), it now delivers 480 hp—again with premium gas—while torque is bumped from 410 lb-ft. to 415 lb-ft. When fitted with the aforementioned active-valve performance exhaust system, expect 486 hp and 418 lb-ft. of torque.
Since the Shelby GT500 is taking a break, the most powerful Mustang with eight cylinders will be the new Mustang Dark Horse. Powered by Ford Performance know-how, the Coyote engine was upgraded even further to produce 500 hp and 418 lb-ft.
Upgrades include a uniquely balanced crankshaft and forged piston connecting rods designed to handle higher cylinder pressures and piston speeds. Strengthened camshafts allow extended operation closer to the engine's 7,500-rpm redline. 
By the way, for Mustang GT and Mustang Dark Horse models, horsepower and torque ratings are the same whether you opt for the 10-speed automatic or six-speed manual transmission.
Pricing for the 2024 Ford Mustang will be announced closer to launch.