2023 Chevrolet Silverado Duramax: Not Going Electric Yet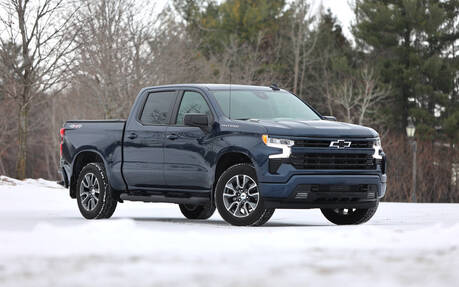 The full-size pickup segment is the most profitable one in North America, and it's currently in the midst of a major transformation.
While manufacturers continue to sell large numbers of conventional, V8-powered models, all-electric alternatives like the Ford F-150 Lightning generate plenty of attention and demand. How long will big, inefficient combustion engines stick around? And will customers be able to get them without taking a massive hit in the form of gas-guzzler taxes?
General Motors is charging ahead with the Chevrolet Silverado EV and GMC Sierra EV, a pair of attractive contenders that will play a much more important role than the GMC Hummer EV. However, don't expect them to hit Canadian roads before 2024.
What About… Diesel?
Efficiency is a hotter topic than ever, especially with volatile gas prices. Traditional pickups may be powerful and dependable, but they tend to burn fuel at an alarming rate. GM now has a turbocharged four-cylinder gasoline engine for Silverado and Sierra customers who don't need to haul or tow heavy loads. This is in addition to the six-cylinder Duramax turbo-diesel unit. While Ram and Ford have both abandoned their own diesel options, GM has increased output for 2023, going from 277 hp to 305 hp. Also, peak torque is up from 460 lb-ft. to 495 lb-ft. Combined fuel consumption is around 10 L/100 km.
The Duramax is not merely about efficiency, mind you. It's quiet, pleasant to use, and the remarkable amount of low-end torque eliminates any hesitation when accelerating. Depending on the model, it can tow up to 13,300 pounds—and avoid burning fuel like crazy while doing so, which is not something that can be said about gasoline engines. Highway driving without a trailer nets about 8.5-9 L/100 km, and when towing 7,500 pounds you're looking at approximately 14-14.5 L/100 km.
Obviously, the price gap at the pump is the great equalizer. In Canada, a single litre of diesel costs $0.50-$0.70 more than a litre of gasoline right now. U.S. customers don't have that problem as prices are roughly on the same level south of the border. One shouldn't base their purchase decision on current fuel prices, but many people still shy away from diesel options because of that. Maintenance costs are higher, too, and spending for diesel exhaust fluid is another requirement.
Proper Update
Beyond engine selection, the Chevy Silverado is a compelling pick especially following the extensive update it received for the 2022 model year. Just like that, the cabin went from downright obsolete to a modern and sophisticated environment, except in base WT or LS trim.
Designers eliminated the column-mounted shifter and replaced it with a compact shifter on the centre console, which is revised and smartly arranged. Storage may not be quite as generous as in the past, but content sure is—although I'm not sure why the 12V power outlet was axed, because it can still be useful to power various devices inside a truck.
The new fully digital HMI includes a configurable and sharp-looking instrument panel, but more importantly a large centre touchscreen with Google built-in. Drivers can now access more features, while ergonomics are mostly spot-on.
Styling was updated, as well, but it's nowhere near as eye-catching as the future Silverado EV, which also happens to boast a folding midgate between the cabin and the cargo bed to fit longer items in the truck. This is one thing the F-150 Lightning doesn't have, by the way.
Things to Consider Before Buying
Don't need to haul or tow heavy loads? You should avoid the Silverado Trail Boss or any model equipped with the Z71 suspension, which seriously affects ride quality due to the beefier and stiffer components. The standard suspension delivers exceptional comfort while contributing to better on-road handling.
When it comes to engine options, the Duramax is particularly interesting. Maybe not now from a financial standpoint, but performance and capability are good enough to win over skeptics. It's a tremendous operator and alternative to GM's naturally aspirated 5.3- and 6.2-litre gasoline engines.
Oh, one last thing: GM sure brags a lot about the turbo-four, and may consider terminating the popular V8 engines at some point, but fuel consumption is 25 percent worse than with the diesel.
Watch: Refreshed Chevrolet Silverado Debuts With ZR2 Model
Test drive report
Test model

2023 Chevrolet Silverado 1500

Trim level
RST cab. multiplace 4x4 (5.8')
Price range
$43,203 – $80,148
Price as tested
72 265 $
Warranty (basic)
3 years/60,000 km
Warranty (powertrain)
5 years/100,000 km
Fuel economy (city/highway/observed)
10,9 / 9,1 / 9,8 L/100km
Options
N/A
Competitive models
2023 Ford F-150, 2023 GMC Sierra 1500, 2023 Ram 1500, 2023 Toyota Tundra
Strong points

Build quality
Diesel performance
Superior towing capacity
Sophisticated cabin

Weak points

Aging V8 engines
High cost of diesel
Turbo-four is not that efficient

Editor's rating
Fuel economy
Given its power and capability, the Duramax turbo-diesel is extremely efficient.
Comfort
Comfort is exceptional, unless you opt for a beefed-up or off-road oriented suspension.
Performance
With so much low-end torque, acceleration is amazing.
Infotainment
Now one of the best infotainment systems in the industry.
Driving
Part of what makes the Silverado pleasant to drive is that it feels smaller than it actually is.
Overall
An exceptional truck that stands out with top-notch build quality.