Ram 1500 Revolution BEV Concept Debuts, Production Model to Follow Soon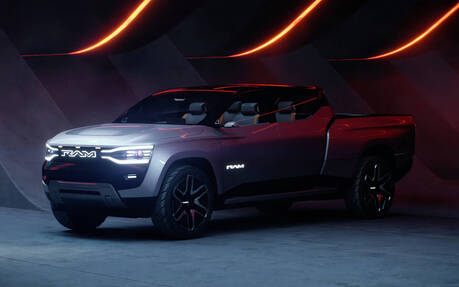 Ram is finally joining Ford and General Motors in the EV pickup segment with today's introduction of the Ram 1500 Revolution BEV Concept at CES in Las Vegas.
The design is stunning and admittedly bolder than that of the F-150 Lightning, Silverado EV and Sierra EV, but that's normally the case with concepts. The production model will have its premiere a few months from now and go on sale in 2024. Ram CEO Mike Koval Jr. told us it will retain a majority of the features you see here.
Brutal Yet Beautiful
That's how the company describes its shiny new truck. The LED "tuning fork" design and illuminated RAM badges are fully animated and give the vehicle a unique signature. The front fascia also incorporates a skid plate and new pivoting tow hooks. Under the hood, cargo capacity is not disclosed but this frunk appears to be smaller than the F-150 Lightning's.
The RamBox storage compartments on each side of the cargo bed are larger than usual and Ram's multifunction tailgate is naturally part of the mix. The latter is power assisted just like the charging port, side steps and rear step. Meanwhile, the striking 24-inch alloy wheels are wrapped in 35-inch tires and connected to an adaptive, self-levelling air suspension.
The Ram 1500 Revolution BEV Concept is built on Stellantis' new STLA Frame body-on-frame architecture and capped by a full glass roof with electro-chromatic panels. The cabin is 102 mm (4 inches) longer than that of the current production truck, while the doors have been reimagined in a grand saloon style opening that showcases a cavernous occupant space without a B-pillar. Don't look for this configuration to carry over at the factory. Same thing about the cameras replacing the side mirrors.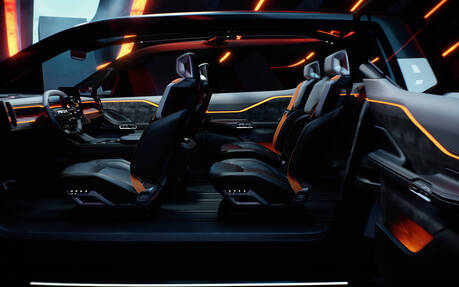 Innovative
Two other unique features of this truck's design stand out. First, the Ram Track rail attachment/floor track system provides cabin flexibility for the seats and console as well as usable tie-downs or other storage potential. It is also incorporated in the frunk as well as the bed allowing for true flexibility from front to rear.
Second, the midgate with powered glass enables a pass-through (and into the frunk) that can fit objects up to 5.5 metres (18 feet) long with the tailgate closed. But that's only half the story. Said midgate features mounted jump seats with a removable lower section for placement in the bed or outside the vehicle. That's right: you can make the Ram 1500 Revolution a three-row pickup. Brilliant, isn't it? Let's hope the production model retains those jump seats.
The centre console can be removed to provide more space. Alternatively, the centre armrest individually converts to a workstation surface. Clearly, there are plenty of convenient solutions and possible configurations inside. The front seats, for example, can pivot to face the rear passengers in conference mode. As for the dual 14.2-inch touchscreens, the upper one can slide on the Ram rail attachment system, while the lower one has three different positions depending on the task at hand and can be removed and used in different areas of the truck (as a tablet, passenger display, truck bed workstation, vehicle control or video game controller).
Key Specs to Come Later
It's no surprise that Ram chose the CES to unveil the 1500 Revolution BEV Concept, which is absolutely loaded with advanced technology. Highlights include an AI-powered virtual assistant, head-up display with augmented reality and a Shadow Mode that happens to be the CEO's favourite feature—at least that's what he told us. Let's say you need to move a short distance but don't want to get back in the truck, such as when picking up tools or equipment from a job site. With voice-activated Shadow Mode, the vehicle will automatically follow you as you walk ahead of it.
Ram promises to be a leader in a combination of areas pickup owners care about the most including range, towing, payload and charge time. Sadly, none of those specs are available at the moment.
What we can tell you is that the Ram 1500 Revolution BEV Concept uses dual electric motors, all-wheel drive, four-wheel steering with up to 15 degrees of articulation and a powerful 800V architecture. It can add up to 160 km of range in approximately 10 minutes when plugged into a 350kW DC fast charger.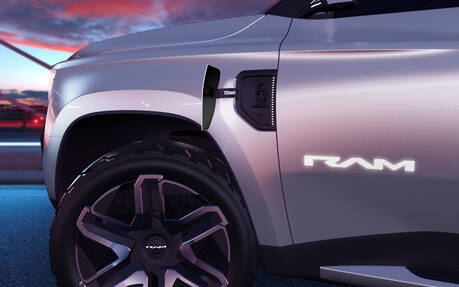 Ram is also showcasing a new inductive robot charger, called Ram Charger, at CES 2023, that will make home charging as easy as possible. It detects the vehicle's presence and its charging needs, and automatically moves into position and aligns itself under the vehicle. Smart-charge capability will allow charging during off-peak time.
As mentioned earlier, the production model is just a few months away. Keep following The Car Guide for the official reveal.
LISTEN: LP and Gab talk about the 2023 edition of the Consumer Electronics Show (CES)