Rolls-Royce, Bentley, Bugatti All Had Record-Breaking Sales in 2022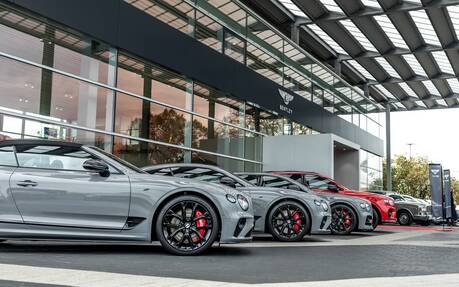 It doesn't seem like inflation had any effects on high-end luxury car buyers during the past 12 months. Rolls-Royce, Bentley and Bugatti are three great examples.
In 2022, the year it revealed its first-ever all-electric model (Spectre), Rolls-Royce achieved a global sales performance unequalled in the company's 118-year history. In total, 6,021 cars were delivered to customers around the world, an increase of 8 percent from the previous record of 5,586 set in 2021. 
This is also the first time that Rolls-Royce sales have exceeded 6,000 in a single calendar year. The company enjoyed growth in almost all regions, with particularly strong year-on-year growth seen in the Middle East, Asia-Pacific, the U.S. and Europe. The Americas remains the largest single region for Rolls‑Royce.
"As a true House of Luxury, sales are not our sole measure of success: we are not and never will be a volume manufacturer. Bespoke IS Rolls-Royce, and commissions were also at record levels last year, with our clients' requests becoming ever more imaginative and technically demanding," said Rolls-Royce CEO Torsten Müller-Ötvös. "The unrivalled Bespoke creativity and quality achieved by our team here in Goodwood means that on average, our clients are now happy to pay around half a million Euros for their unique motor car."
Domestic rival Bentley sold 15,174 units across the globe in 2022, an increase of 4 percent over the previous record year (14,659) in 2021 and the first time Bentley has reached over 15,000 cars. This significant achievement was driven by new model introductions and increasing demand for Mulliner personalisation and the brand's new hybrid models.
The continued demand for SUVs ensured the Bentayga remained Bentley's number one model, selling more in its sixth year of sales than ever before, accounting for 42 percent of total sales. The Americas maintained its position as the biggest selling global market for Bentley.
"In what was another year of unpredictability, the business overcame significant headwinds and demonstrated great resilience to deliver the third consecutive record sales year. This underlines our brand strength, operational excellence and strong global demand by market and model," said Bentley Chairman and CEO Adrian Hallmark.
As for Bugatti, the French hypercar maker delivered 80 units globally in 2022, which is more than ever before. Among them were all ten Centodiecis, the last Chiron and Chiron Sport for Europe, plus the final nine Chiron Super Sport 300+ models. 
LISTEN: LP and Gab talk about the ultra-luxury manufacturers who killed it in 2022 in terms of sales