2023 Subaru Legacy GT: Alone With a Big Engine and AWD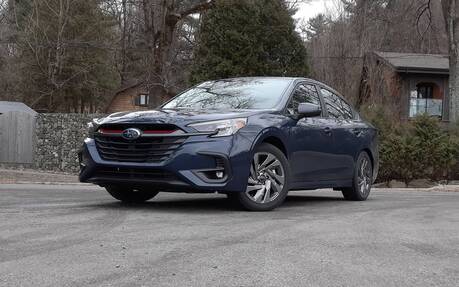 The Subaru Legacy is far from enjoying the same type of success as the Crosstrek and Outback are in their respective segments. Subaru-loving families also prefer the Forester (naturally) and the Ascent.
When it comes to midsize sedans, the Legacy is a marginal player, too. And yet from 2021-2023 we at The Car Guide have ranked it as the second-best buy in the segment, behind only the Toyota Camry. It really is a well-kept secret.
For 2023, the Legacy received a mid-cycle update that Subaru hopes will force potential customers to pay more attention. Unfortunately, this comes at a time when the much more popular Honda Accord is completely redesigned and improved.
GT Has a Bit More Flair
The 2023 Subaru Legacy boasts a simpler lineup as the base Convenience model is gone while the top-line Limited GT and Premier GT have merged into a single GT model. The latter stands out with red trim on the grille, which is now larger and flanked by revised LED headlights and fog lights. Dark grey accents, dual exhaust tips and new 18-inch wheels in Gunmetal Grey are included, as well. No oversized alloys here, which is good news when the time comes to purchase winter or replacement tires.
The interior is fairly spacious and nicely laid out. New Slate Black Nappa leather with silver stitching is the theme in the Legacy GT. The 11.6-inch, tablet-style infotainment display fits into the dashboard like a charm and now comes with wireless Apple CarPlay and Android Auto compatibility, which is a good thing. Ditto for the new full-circumference heated steering wheel.
The navigation system now has integrated what3words (W3W), a unique location technology that makes it possible communicate precise locations using just three simple words. That's nice. We're not sure how many drivers will actually use it, though.
While the power-adjustable seats prove equally supportive and comfortable (the GT even offers manual thigh support), the front seatbacks are a bit tight in the shoulder area, which might pose a problem for some drivers on long trips. Furthermore, adjusting ventilation and the heated seats via the screen is not as intuitive as it would be with physical buttons, forcing you to take your eyes off the road longer. In fact, the DriverFocus alert system came to our rescue at least once. One more complaint: the vertically arranged display makes for a smaller rear-view camera image, which is not super-sharp in the first place.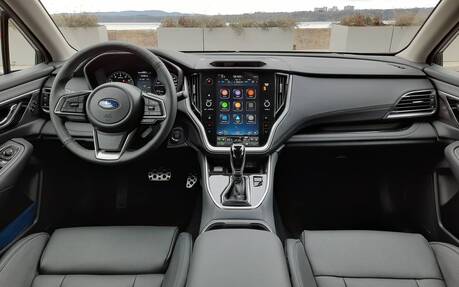 Generous Power to All Four Wheels
The top-line GT is the only Subaru Legacy model to feature the turbocharged 2.4-litre four-cylinder Boxer engine, mated to the brand's excellent full-time symmetrical AWD system. It's also the only midsize sedan that makes no compromises in the powertrain department. With the Toyota Camry or Kia K5, for example, you must either settle for a smaller engine to get AWD or have the more powerful engine with FWD.
We love the fact that the 260 horsepower and 277 pound-feet of torque can be put to good use in any road or weather conditions. They're a sizable upgrade from the naturally aspirated 2.5-litre engine's 182 horsepower and 176 pound-feet, and thanks to the SI-Drive system with available Sport# mode, acceleration can be even more satisfying. Don't worry too much about the CVT, because it receives unique tuning for high-torque application and does a good job overall of not feeling like a regular CVT.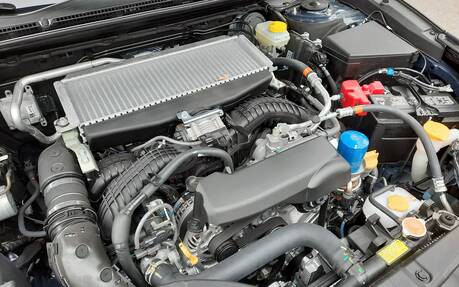 By the way, Natural Resources Canada rates the 2023 Subaru Legacy GT at 9 L/100 km combined (we achieved 9.5 L/100 km with temperatures ranging between minus 5 degrees and 5 degrees Celsius). It's not quite as fuel-efficient as the 290-horsepower K5 GT, but beats the 301-horsepower, V6-equipped Camry—both of which come with FWD only. Subaru does not require premium gasoline, so fuel bills can be reasonable, but you should consider it anyway to ensure optimal turbo performance and longevity.
As for safety, Subaru made improvements for 2023 by adding a wide-angle mono camera that works together with the dual-camera EyeSight system, expanding the field of view to recognize pedestrians and bicycles sooner when the vehicle enters an intersection at low speed. Speaking of EyeSight, an additional feature called Automatic Emergency Steering works in conjunction with the Pre-Collision Braking System to help avoid a collision at speeds less than 80 km/h. We didn't try it, but it's good to know.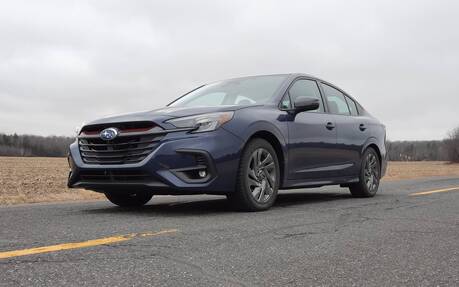 Give it a Chance
As mentioned at the top, the 2023 Subaru Legacy is one of the best buys in the segment. On the flip side, there is no hybrid variant to compete with similar offerings from Toyota, Honda and Hyundai, while eliminating the Convenience model has pushed the base price to $35,158 including freight and PDI. A Legacy Limited ($39,158) is a great pick if you don't want lively performance, but trust us, you can definitely have fun with the GT ($44,158).
Test drive report
Test model

2023 Subaru Legacy

Trim level
GT
Price range
$32,995 – $41,995
Price as tested
41 995 $
Warranty (basic)
3 years/60,000 km
Warranty (powertrain)
5 years/100,000 km
Fuel economy (city/highway/observed)
10,1 / 7,5 / 9,5 L/100km
Options
N/A
Competitive models
2023 Honda Accord, 2023 Chevrolet Malibu, 2023 Hyundai Sonata, 2023 Kia K5, 2023 Nissan Altima, 2023 Toyota Camry
Strong points

Turbo engine + AWD
Upgraded EyeSight system
Pleasant performance and driving dynamics

Weak points

Firm ride (GT)
Some issues with the centre display
No hybrid variant

Editor's rating
Fuel economy
Given the power and standard AWD, the Legacy GT is reasonably efficient. No hybrid model is available.
Comfort
The GT's sport-tuned suspension affects ride quality on bad pavement, but overall this car is pretty comfortable.
Performance
The 260 hp and 277 lb-ft. of torque make for a winning combination with Subaru's AWD system. Turn on Sport# mode and feel the difference.
Infotainment
The centre display is clear and attractive but not without a few issues.
Driving
The Legacy feels safe and inspires confidence. The GT model proves fairly dynamic, too.
Overall
Stuck in the shadow of most competitors and other Subaru models, the Legacy is still a great purchase for families that don't want an SUV.