Chevrolet
Silverado EV

, Equinox EV Make Canadian Debut in Montreal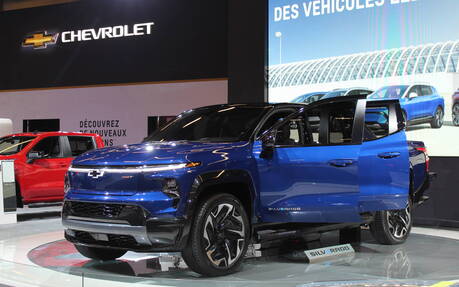 Chevrolet's upcoming electric vehicles are front and centre at the 2023 Montreal International Auto Show (MIAS) opening today.
Fans of conventionally powered cars and trucks also have hot new models to drool over. Let's take a closer look.
Chevrolet Silverado EV
The 2024 Chevrolet Silverado EV definitely ranks among the most highly anticipated electric vehicles in Canada. This zero-emission spinoff of the popular Silverado is not ready to show up in at dealerships just yet, of course, but visitors at the MIAS can see it live for the first time in Canada.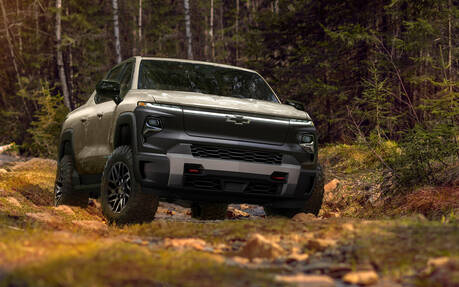 Built on the same Ultium platform as the GMC Hummer EV, the Silverado EV will initially be available in two models starting with WT (Work Truck), which is rated at 510 hp and 615 lb-ft. of torque. It can tow up to 8,000 lbs. while the cargo bed has a payload of 1,200 lbs. The top-line RST model generates 660 hp and 780 lb-ft. of torque, so towing capacity is increased to 10,000 lbs.
We're still waiting for the official range figures, but Chevrolet claims the Silverado EV can drive up to about 640 km with a full battery charge. Fast charging will be possible up to 350 kW.
As for pricing, base models will be quite attractive at $52,448, although these are scheduled for launch at a later date. The RST will come first, with customers required to pay just shy of $120,000. That's right.
Equinox EV
Another electric vehicle prominently featured at the MIAS this year is the 2024 Equinox EV. Similar to the Silverado EV and so many other GM models to come in the next few years, this compact crossover rides on the Ultium platform.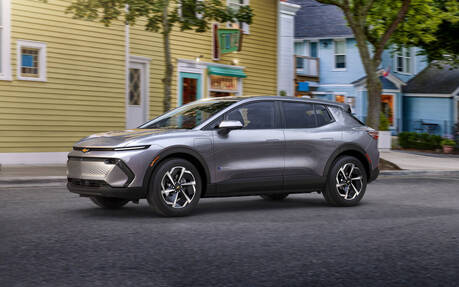 Customers will have a choice of five trim levels and two batteries. When equipped with the smaller battery, output is rated at 210 hp and 242 lb-ft. of torque. With the bigger pack, the Equinox EV delivers 290 hp and 346 lb-ft. of torque. Depending on the configuration, maximum range is either 400, 450 or 480 kilometres. 
Beyond styling and technology, this vehicle is about affordability. To the surprise of many people, Chevrolet last year announced a base price of around $35,000-$40,000 in Canada. And that's not even counting the available EV rebates of up to $12,000. The Equinox EV will launch in the fall of 2023, starting with a limited-edition 2RS in an exclusive body colour and featuring a standard 17.7-inch touchscreen. The waiting list is expected to grow quite rapidly.
Colorado and Corvette Z06
Chevrolet didn't come to the 2023 MIAS just to showcase a pair of electric vehicles, as you can imagine. Visitors will also get to see the next-generation Chevrolet Colorado, which continues to offer a rugged ZR2 model aimed at off-road driving enthusiasts. A new turbocharged four-cylinder engine lies under the hood, generating up to 310 hp.
Fans of sports cars and big power won't want to miss the 2023 Corvette Z06, a 670-hp monster that can light up a track in no time. Consider this: it accelerates from 0-100 km/h in a mere 2.6 seconds and achieves a top speed north of 300 km/h.