Subaru Outback named 2010 Canadian Utility Vehicle of the Year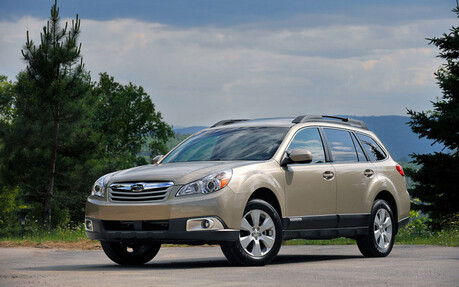 At the Canadian International Auto Show in Toronto, the Subaru Outback was declared the 2010 Canadian Utility Vehicle of the Year by the Automobile Journalists Association of Canada (AJAC).
The Subaru Outback was chosen over three other "best new" category winners from the Sport Utility / Crossover categories announced October 30, 2009 to garner the top honours as the overall best "Canadian Utility Vehicle of the Year".
Mr. Katsuhiro Yokoyama, President and CEO, commented: "It is a great honour to accept this award. To receive this tribute from the members of AJAC tells us very clearly that thoughtful design, first-class engineering, exceptional safety, and outstanding value are qualities that keep the Subaru brand strong."
AJAC's Canadian Car of the Year Awards chair, Richard Russell, said: "AJAC has been conducting and perfecting the Canadian Car and Utility Vehicle of the year program for more than two decades. By constantly adjusting the program and testing procedures to reflect what is important to Canadian consumers, we feel we have a more thorough, unbiased and meaningful award than any other. It is heartening to learn from independent research that Canadians recognize the significance of the award. We will continue to strive to live up to that trust.".
AJAC's annual Canadian Car of the Year awards program was created in 1985 with the purpose of providing consumers with sound, comparative information on vehicles that are new to the market.
Unlike other awards, this is not a popularity contest based on the opinions of a few people. Our winners are determined on a combination of measured facts and subjective evaluations of more than 20 parameters by approximately 70 journalists - more than 46,000 pieces of data in all. And most importantly, they are based on actual testing of the vehicles - back-to-back; on the same roads and in the same conditions on the same day.
For that reason, the vote results that determined today's winners are available to consumers as a resource buying guide on the AJAC web site. Also available are the comparative test data derived from the journalists' extensive four day evaluation of over 150 new vehicles in Niagara-on-the-Lake, Ontario in October. This annual event is known in the industry as "TestFest". Shell Canada is the official fuel supplier of the event and in the last year celebrated another milestone in fuels leadership and technology with the launch of Shell Nitrogen Enriched gasolines across North America.
The rigorous TestFest evaluation program includes real world driving on public roads - exactly where consumers drive so that the test and vote results posted to the AJAC web site are directly relevant to potential car and truck buyers.