New Ford Ranger for North America Reportedly Entering Production in July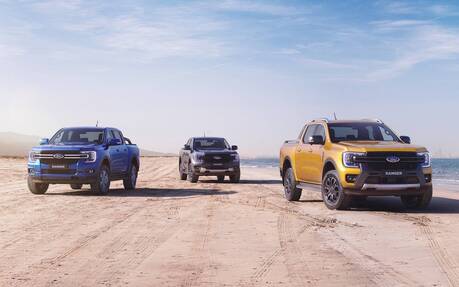 The next-generation Ford Ranger is already on sale in other markets around the globe but has yet to show up in North America. As a matter of fact, the wait will continue until the second half of 2023.
Production of the 2024 Ranger at Michigan Assembly will reportedly start on July 10, insider sources told Ranger6G, and not in May as earlier reports suggested. The first deliveries in Canada and the U.S. should take place in August or September.
The late launch may be the reason why Ford still hasn't revealed the North American-bound Ranger, which will have slightly different specs and equipment than the model sold overseas.
Also according to Ranger6G, pre-orders will begin in the spring—likely right after the pickup is revealed. This could happen at the New York Auto Show (April 7-16, 2023), but we're inclined to believe that Ford will instead host a separate event, just like it did with the 2024 Mustang in Detroit last September
2024 Ford Ranger: What We Know So Far
The next-gen Ranger project was led by an international team of designers and engineers at Ford's Product Development Centre in Australia. According to Ranger program manager Graham Pearson, everyone was focused on one goal—to make this Ranger the toughest and most capable ever created. 
Beneath the new bodywork is an upgraded T6 chassis riding on a wheelbase that's 50 mm longer and a track that's 50 mm wider than the outgoing Ranger. Cargo bed volume expands in the process, enabling customers to load flat plywood sheets or a full-size pallet.
Inside the cabin, refinement and technology are taken to a new level with more premium materials throughout and a portrait-style touchscreen powered by Ford's SYNC 4 infotainment system. The latter complements the fully digital instrument panel. There are fewer physical buttons on the centre stack, too.
The 2.3-litre four-cylinder EcoBoost as we know it will be back along with an updated 10-speed automatic transmission. It remains to be seen whether output is increased or not (currently 270 horsepower and 310 pound-feet of torque). 
The biggest news for Canadians will arguably be the addition of the Ranger Raptor, boasting a reinforced chassis, completely revised suspension and 3.0-litre EcoBoost V6 rated at 392 horsepower and 430 pound-feet of torque. The rugged truck also has four active exhaust modes, seven drive modes and Trail Control, which is like cruise control for off-roading at speeds less than 32 km/h.
As always, keep following The Car Guide for coverage of the all-new 2024 Ford Ranger.
Watch: 2021 Ford Ranger Tremor Review