Honda, Acura Outline New Models Coming for 2023-2024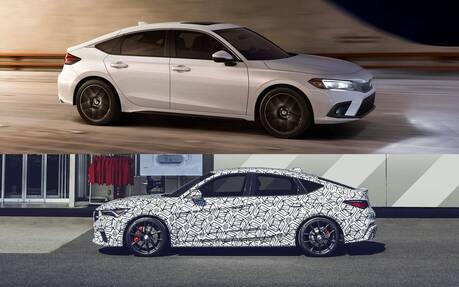 Honda had a pretty busy year in 2022 with the debut of the next-generation HR-V, CR-V, Pilot and Accord, as well as the revived Integra from its luxury brand Acura. More new vehicles are coming in 2023 and 2024, mind you.
On Wednesday, the Japanese automaker provided an outlook on its U.S. automobile business for 2023 during a media briefing with Vice President of Sales, Mamadou Diallo.
"Like the rest of the industry we're not completely out of the woods with supply issues yet, but we're optimistic the Honda and Acura brands will achieve higher sales volumes this year," Diallo said. "With our new models, from our refreshed light truck line-up to the increased hybrid volume and our continued commitment to fun-to-drive cars, our brands are well positioned for 2023."
Honda
Honda's "Year of the Crossover" is not quite finished yet, so to speak. The 2024 Passport will receive a number of changes, and with off-road oriented SUVs being more and more popular, the TrailSport model will return with increased capability.
The Ridgeline pickup, which benefited from a substantial update in 2021, will also offer a TrailSport model for 2024. This will be a first. Of course, Honda doesn't really plan to go head-to-head with competitors like the Chevrolet Colorado ZR2, but challenging the Ford Ranger Tremor is certainly doable.
As mentioned earlier this week, the new Accord will go on sale next month in base trim. The hybrid variants will launch in April.
Honda confirmed that a hybrid powertrain will be available with the 2024 Civic, both the sedan and hatchback. Sales will begin early next year. The system is expected to be similar to that of the Accord Hybrid and CR-V Hybrid (204 hp, 247 lb-ft.), but specifications for the compact car will only be announced later this year.
As for the Prologue, Honda's first fully electric crossover, 2023 will mark the start of pre-sales. Deliveries will begin in early 2024. As part of its new EV Hub in Ohio, Honda soon will break ground on a new joint venture EV battery plant with LG Energy Solution.
Acura
Over at Acura, the TLX sedan will receive enhancements in a mid-cycle update, but we don't have any more details at this point. The more exciting launch will be the new 2024 Integra Type S, which borrows the Honda Civic Type R's turbocharged 2.0-litre engine. Our colleague Louis-Philippe Dubé made a short test drive in Japan back in December, so don't miss his story.
Finally, in a major move for the automaker, 100 percent of Acura EV sales in the U.S. will take place online, starting in 2024 with the ZDX and ZDX Type S (we've been told this won't be the case in Canada, as the final sale and delivery will still take place at the dealership for the foreseeable future). Pre-sales will begin in 2023, ahead of the early 2024 release.
Watch: All-New 2023 Honda Accord Ready to Hit the Road