2023 Porsche 911 Dakar: It's All About the Angles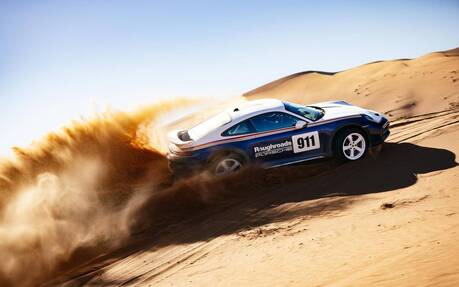 Errachidia, Morocco - "Rugged" and "adventurous" have become full-blown buzzwords within the auto industry. Mainstream automakers are slapping body cladding, underbody protective plates, and meaty tires on ordinary cars to give owners a slight belief that they can tackle off-road trails on their way to soccer practice.
But, let's face it, nobody ever really gets down and dirty with these cars.
However, when marques like Porsche get in on the trends, it's a whole other ball game. Enter the 911 Dakar: a dune-climbing, sand-slinging, trailblazing iteration of the legendary Stuttgart-born sports car. And, while it looks good from every angle, the angles are exactly what make it so capable.
In 1984, during the infamous Paris-Dakar race, French rally driver René Metge zoomed across the Sahara Desert and passed all sorts of big, all-terrain vehicles that were hundreds of kilograms heavier than his Porsche in order to claim the overall victory. Many victories followed during the years after this feat.
The 911 Dakar basically reincarnates this Porsche 911 Carrera 3.2 4x4 Paris-Dakar (or, in simple Porsche lingo, the 953). Hence, there's quite a bit of history behind it.
The Car Guide headed over to Morocco to put the new 911 Dakar to the test in its natural environment. And, while we usually drive 911s on the street and on the track, this was probably the wildest, most treacherously rocky and dusty environment in which we've ever had the privilege of driving Porsche's iconic sportscar.
A Heavy 911 Was Never an Option
Building a Paris-Dakar-capable racer comes with its weight disadvantages. The 911 Dakar is based on its GTS sibling, which entitles it to boast the powerful 3.0-litre, twin-turbocharged flat six that dishes out 473 horsepower and 420 lb-ft of torque. It is mated to the eight-speed PDK gearbox that sends the power to all four wheels.
Rear-axle steering was added, along with Porsche Dynamic Chassis Control (PDCC), an extra cooling fan, and full steel roll bar in the back, not to mention the extra unsprung weight from the wheels and meaty tires.
To counter the weight gains and keep the 911 nice and light, engineers traded some parts for lighter ones, sometimes by digging into the manufacturer's parts bin, and other times by creating custom components. The slimming treatment starts outside, with the unique rear-wing, lightweight glass, along with the GT3-sourced front bonnet, which hides a lightweight 12V battery. Inside, the rear seats are nonexistent (because of the cage), while the front seats are one-way adjustable carbon fibre-reinforced units.
Listen: LP gives his impressions on the 2023 Porsche 911 Dakar
In the end, the 911 Dakar only tipped the scale at 10kg more than the 911 GTS it is based on and can still zoom from 0 to 100 km/h in only 3.4 seconds.
One of the key elements of the 911 Dakar is that it has a 30mm lift over the stock GTS height, with an option to lift to 50mm more for a total of 80mm to tackle the trails. Two driving modes have been added to command this pneumatic piece of equipment: Rallye and Off-Road. Not something we're used to seeing in a 911!
A $250,000 Dune Buggy
Going off-road on board a 911 is a uniquely inspiring, but also spine-chilling experience. While one wants to push the 475 horsepower to its limit, one's sphincter quickly puckers up when hearing the expensive-sounding "THONK"s and the "TUD"s from the rocks hitting the protection plates.
However, after two straight days of riding rocks and dunes in the Sahara Desert, the sound morphed from a constant concern into mere background noise. The 911 Dakar, we discovered, is engineered for this.
While the ground clearance won't allow you to go rock climbing, the car's approach angle of 16.1 degrees and breakover angle of 19 degrees, which is comparable to a Porsche SUV, enabled us to tackle steep terrain without cracking the bumpers.
Ripping through the dunes in "off-road" mode at full speed, where the suspension is at its highest level, was an incredibly fun, but also pleasantly bewildering, experience. And we were surprised to notice that driving in thick sand has some things in common with driving in the snow. One must modulate (or in deeper sand, floor!) the accelerator and keep the car busy with steering input to avoid the "sink of shame" and recovery.
The car must also be piloted with anticipation, because there is always a delay from the input to the vehicle response.
Sounds familiar? We should add that the manufacturer can also outfit the Dakar with custom Pirelli winter tires…
Impressively Docile on the Road
Once the sand was shaken off and we were able to get back on tarmac, we were expecting a more floating, body-rolling feeling with the Dakar compared to a traditional 911, a compromise that is often inevitable with other automakers who venture into the off-road segment. However, the Dakar would immediately sharpen its senses on the asphalt, especially in Sport mode, letting us know that it hasn't forgotten its corner-carving roots.
Even the road noise was much more muffled that what you would expect from the chunky, all-terrain tires.
As you may have guessed, all 2,500 911 Dakar examples have already been sold to very select customers who picked it from among the 25 other flavours that the 911 lineup has to offer.
Alas, even with all their capabilities and motivations, with the right angles and gear to tackle rough roads, most of these vehicles will probably be stored in weather-controlled bubbles waiting for an auction hammer to make their owners richer in 20 odd years.
With that said, seeing that Porsche can build a non-compromising off-road-capable 911 shows us precisely what the automaker has the guts to do. What's next?
WATCH: 2022 Porsche 911 GT3 Test Drive
Test drive report
Test model

2023 Porsche 911

Trim level
Dakar
Price range
247 250 $
Price as tested
247 250 $
Warranty (basic)
4 years/80,000 km
Warranty (powertrain)
4 years/80,000 km
Fuel economy (city/highway/observed)
13,8 / 10,1 / N/A L/100km
Options
N/A
Competitive models
Aston Martin Vantage, Audi R8, BMW 8 Series, Chevrolet Corvette, Ferrari Roma, Jaguar F-TYPE, Lamborghini Huracán, Maserati MC20, McLaren GT
Strong points

A very unique special edition of the 911
Surprising drivability on the road
Impressive off-road skills (for a sports car!)

Weak points

Pricing
Availability is second to none
No seating in the rear...

Editor's rating
Fuel economy
N/A Not evaluated
Comfort
The seats are designed for competition. They are very snug and supportive, but can make long drives longer
Performance
Ample performance for road/trail/dunes
Infotainment
The Porsche infotainment system gets better with time. But it's still more complicated than it should be
Driving
The 911 Dakar is surprisingly versatile with very little compromise
Overall
It's hard not to love this 911!