2023 Honda Accord: The Mature and Sophisticated Sedan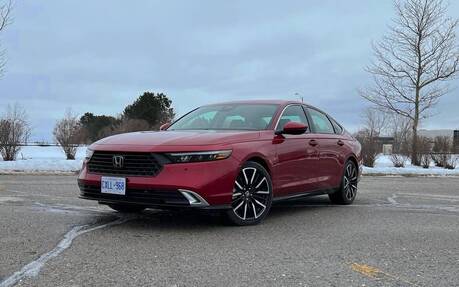 Despite accounting for just 4 percent of Honda's Canadian sales in 2022, the 47-year-old Accord remains one of the brand's most important products. Of course, it's nowhere close to matching the popularity of its arch nemesis, the Toyota Camry, but a solid 154,000 units were sold in the U.S. last year versus 3,700 on this side of the border.
Unsurprisingly, Honda Canada decided to simplify the model lineup quite a bit for 2023, which marks the debut of the next-generation Accord. Only three trim levels are available (six in the U.S.), and two of them come standard with hybrid technology that can be described by some as conservative yet proves a wonderful fit for this type of car. The Accord's best-selling competitors also offer a hybrid option, mind you, with the Camry leading the way once again.
More Mature
While the outgoing model sported a rather aggressive look, the new 2023 Honda Accord is more mature. The chassis has been carried over, but the body takes on a more classic shape and gets rid of some admittedly unsightly ornaments. Expect the new design to age better over time.
The base EX model features 17-inch wheels and a power sunroof, while the mid-grade Sport adds 19-inch wheels and various accents in a gloss black finish including the side window trim. At the top of the lineup is the Accord Touring, which also rides on 19-inch wheels but looks a tad classier.
This eleventh generation of Honda's midsize sedan is more refined inside, as well, with a layout similar to that of the latest Civic and CR-V. The driving position is ergonomically flawless, while the magnificently designed centre console replaces the push-button shifter with a more conventional stick. Overall, the cabin is both straightforward and elegant, though available in black only.
The most notable innovation comes in the form of a 12.3-inch touchscreen with Google built-in (Accord Touring). Other highlights include a powerful 12-speaker Bose audio system, head-up display, heated and ventilated seats wrapped in perforated leather, plus wireless smartphone charging.
Naturally, the top-line model is the one that Honda emphasizes the most as the average Accord customer continues to get older and thus wants more luxury. The company also predicts that gas-electric models will eventually represent about half of Accord annual sales. The powertrain is an evolution from the outgoing Accord Hybrid that will help drivers save 28 percent fuel versus the conventionally powered EX model.
RIP 2.0T
One of the Honda Accord's best-kept secrets up until now was the available 2.0-litre turbo engine producing 252 horsepower and delivering exceptional performance. Sadly, it's not returning for 2023, and the same can be said about the 10-speed automatic transmission. The focus has shifted to fuel economy, leaving Hyundai, Kia and Subaru with more powerful four-cylinder alternatives. Toyota is the only one that still offers a V6, but maybe not for long as few people go for it.
The turbocharged 1.5-litre four-cylinder is back, generating 192 horsepower and averaging 7.3 L/100 km in combined city-highway driving. The hybrid models are rated at 5.3 L/100 km (previously 5.5 L/100 km) even though they ride on larger 19-inch wheels. The increased rolling resistance is part of the reason why the Accord Sport and Touring are about 4 percent less efficient than the Camry Hybrid.
If you ask Honda executives, they'll tell you that customers prefer bigger wheels for the sake of styling. But consider this: the EX-L model sold in the U.S. with 17-inch alloys improves fuel economy from 44 mpg to 48 mpg (the equivalent of 4.9 L/100 km). We're pretty sure many people in Canada would have said yes to that one.
The hybrid powertrain combines the same 2.0-litre engine (now with direct fuel injection) with an electric motor and 1.3kWh battery for a total of 204 horsepower, a drop of 12 horsepower. On the bright side, peak torque is boosted to 247 lb-ft. Shifting is handled by a so-called e-CVT, which in reality is a single-speed transmission with simulated gear shifts.
The noise levels inside the Accord Touring are remarkably low, aided by an acoustic glass windshield. The ride is stable and super-smooth, while the rigid body inspires confidence in corners. What's more, visibility is improved thanks to slimmer A-pillars (a technique also used on the Civic). Keep in mind that the new Accord has a similar wheelbase to its predecessor but stands nearly 9 cm longer overall—a mere 5 cm shorter than the Dodge Charger, which is categorized as a large sedan.
Interestingly, the battery on hybrid models doesn't affect cargo capacity at all. The trunk can still fit 473 litres, same as in gas models. The only difference is that the spare tire is replaced by a tire repair kit. Oh, and the fuel tank is smaller (48 litres versus 56 litres).  
Pricey
Just like every other 2023 Honda model, the new Accord is way more expensive than the previous generation. The base EX starts at $37,000 (plus $1,780 freight and PDI), while the Sport retails from $41,000 and the Touring requires an additional $3,500. But you know what? The Accord Touring will probably end up being the volume leader in Canada, even though it costs $2,600 more than the most luxurious and expensive Camry Hybrid.
One last thing: the Accord is one of four midsize sedans (along with the Chevy Malibu, Hyundai Sonata and Nissan Altima) not to offer all-wheel drive. Too bad for a number of Canadian customers. Sales of the Accord in our country are simply too weak when compared with the U.S. to have any effect on Honda's decision to stick with front-wheel drive only.
Watch: 2023 Honda Accord Makes Official Debut
Test drive report
Test model

2023 Honda Accord

Trim level
Hybride Touring
Price range
$37,000 – $44,500
Price as tested
44 500 $
Warranty (basic)
3 years/60,000 km
Warranty (powertrain)
5 years/100,000 km
Fuel economy (city/highway/observed)
5,0 / 5,7 / 5,6 L/100km
Options
N/A
Competitive models
2023 Chevrolet Malibu, 2023 Hyundai Sonata, 2023 Kia K5, 2023 Nissan Altima, 2023 Subaru Legacy, 2023 Toyota Camry
Strong points

Great ride and handling
Comfortable and pleasant interior
More mature looks
Excellent build quality

Weak points

High price
No more 2.0-litre turbo engine
19-inch wheels affect fuel economy (hybrid)
Front passenger's seat is not height-adjustable

Editor's rating
Fuel economy
Remarkable fuel economy. Would be even better with 17-inch wheels.
Comfort
A highlight of this sedan, though it misses a height-adjustable front passenger's seat.
Performance
Power is decent, but the hybrid model's increased torque is the difference maker.
Infotainment
The Accord Touring impresses with a 12.3-inch display and Google built-in. The other models don't.
Driving
Certainly the most pleasant midsize sedan out there, maybe along with the Subaru Legacy.
Overall
A superb offering that more people should consider.