Ford to Build Lower-Cost LFP Batteries at New Michigan Plant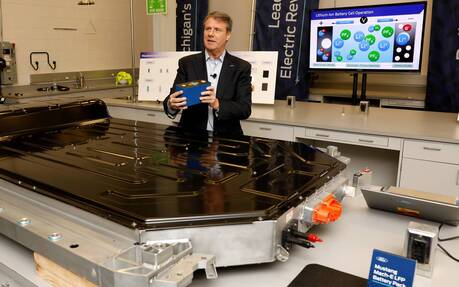 Ford has announced an investment of $3.5 billion USD (approx. $4.7 billion CAD) to build a new lithium iron phosphate (LFP) battery plant for electric vehicles in Marshall, Michigan.
The facility is expected to be fully operational in 2026 with an annual capacity of about 35 GWh initially—enough to power 400,000 future EVs—and could expand in the years after that.
This will help Ford accelerate deliveries and reduce the cost of EVs for customers. The automaker is working to achieve an annual run rate of 600,000 EVs globally by the end of this year and 2 million globally by the end of 2026.
Rather than creating a joint venture with SK On (formerly SK Innovation) or LG Energy Solution this time around, Ford is teaming up with China's Contemporary Amperex Technology Co., Limited (CATL), the world's leading battery manufacturer, which also has supply deals with Tesla and Honda. Under the arrangement, Ford's wholly owned subsidiary will manufacture the battery cells using LFP battery cell knowledge and services provided by CATL.
Compared with nickel cobalt manganese (NCM) batteries currently powering the Ford Mustang Mach-E and F-150 Lightning, LFP batteries are very durable and tolerate more frequent and faster charging while using fewer high-demand, high-cost materials, Ford explains. At scale, they will help the automaker contain or even reduce EV prices. 
Want more good news? Even before the new battery plant opens, Ford will introduce LFP batteries on the Mustang Mach-E this year and the F-150 Lightning in 2024 to increase production capacity.
Watch: 2021 Ford Mustang Mach-E Review